Playing History
| Season | Division | | | G2G | | | Win % | Draw % | Loss % |
| --- | --- | --- | --- | --- | --- | --- | --- | --- | --- |
| 2018-19 | West Region Premiership | 30 (4) | 0 | - | 5 | 0 | 52.9% | 11.8% | 35.3% |
| Totals: | | 30 (4) | 0 | | | | | | |
Apps = First Team Appearances (Sub Appearances) | Gls = Goals
GtGR = Goals to Games Ratio | W/D/L - Games won, drawn or lost as percentage of games played in
Yel = Yellow Cards/Cautions | Red = Red Cards/Dismissals
List of Goals Scored
None
List of Games Played (click to expand)
| | | | | | | |
| --- | --- | --- | --- | --- | --- | --- |
| Apr 20th, 2019 | 20/04/19 | League | West Region Premiership | vs. Pollok (H) | 1 - 2 | |
| Apr 13th, 2019 | 13/04/19 | League | West Region Premiership | vs. Renfrew (H) | 3 - 1 | |
| Apr 10th, 2019 | 10/04/19 | League | West Region Premiership | vs. Auchinleck Talb (H) | 2 - 3 | (sub) |
| Mar 30th, 2019 | 30/03/19 | League | West Region Premiership | vs. Cumnock (H) | 2 - 2 | (sub) |
| Mar 2nd, 2019 | 02/03/19 | Scottish Junior Cup | Quarter Final Replay | vs. Hurlford United (H) | 1 - 3 | |
| Feb 23rd, 2019 | 23/02/19 | Scottish Junior Cup | Quarter Final | vs. Hurlford United (A) | 1 - 1 | |
| Feb 16th, 2019 | 16/02/19 | League | West Region Premiership | vs. Glenafton Ath (H) | 1 - 2 | |
| Jan 19th, 2019 | 19/01/19 | League | West Region Premiership | vs. Largs Thistle (A) | 1 - 2 | |
| Jan 12th, 2019 | 12/01/19 | League | West Region Premiership | vs. Kilwinning Rgrs (H) | 5 - 0 | |
| Jan 5th, 2019 | 05/01/19 | League | West Region Premiership | vs. Petershill (A) | 3 - 0 | |
| Dec 29th, 2018 | 29/12/18 | League | West Region Premiership | vs. Irvine Meadow (H) | 0 - 2 | |
| Dec 22nd, 2018 | 22/12/18 | League | West Region Premiership | vs. Kilbirnie Lade (A) | 1 - 1 | |
| Dec 1st, 2018 | 01/12/18 | League | West Region Premiership | vs. Hurlford United (A) | 2 - 5 | |
| Nov 24th, 2018 | 24/11/18 | Scottish Junior Cup | 4th Round | vs. Royal Albert (A) | 3 - 1 | |
| Nov 17th, 2018 | 17/11/18 | League | West Region Premiership | vs. Cambuslang R (A) | 2 - 1 | |
| Nov 10th, 2018 | 10/11/18 | West of Scotland Cup | 1st Round | vs. Glas Perthshire (H) | 2 - 3 | |
| Nov 3rd, 2018 | 03/11/18 | League | West Region Premiership | vs. Troon (A) | 5 - 1 | |
| Oct 27th, 2018 | 27/10/18 | Scottish Junior Cup | 3rd Round | vs. KInnoull (A) | 3 - 0 | |
| Oct 20th, 2018 | 20/10/18 | League | West Region Premiership | vs. Largs Thistle (H) | 3 - 0 | |
| Oct 13th, 2018 | 13/10/18 | League | West Region Premiership | vs. Renfrew (A) | 0 - 1 | |
| Oct 6th, 2018 | 06/10/18 | League | West Region Premiership | vs. Petershill (H) | 6 - 1 | |
| Sep 15th, 2018 | 15/09/18 | League | West Region Premiership | vs. Hurlford United (H) | 0 - 1 | |
| Sep 8th, 2018 | 08/09/18 | League | West Region Premiership | vs. Glenafton Ath (A) | 2 - 0 | |
| Sep 1st, 2018 | 01/09/18 | League | West Region Premiership | vs. Kilbirnie Lade (H) | 2 - 0 | |
| Aug 25th, 2018 | 25/08/18 | League | West Region Premiership | vs. Kilwinning Rgrs (A) | 2 - 0 | |
| Aug 20th, 2018 | 20/08/18 | Sectional League Cup | Quarter Final | vs. Petershill (A) | 1 - 3 | |
| Aug 18th, 2018 | 18/08/18 | League | West Region Premiership | vs. Auchinleck Talb (A) | 0 - 4 | |
| Aug 15th, 2018 | 15/08/18 | Sectional League Cup | 2nd Round | vs. Rossvale (H) | 2 - 1 | (sub) |
| Aug 11th, 2018 | 11/08/18 | League | West Region Premiership | vs. Cambuslang R (H) | 3 - 3 | |
| Aug 8th, 2018 | 08/08/18 | League | West Region Premiership | vs. Kirk. Rob Roy (A) | 2 - 1 | |
| Aug 4th, 2018 | 04/08/18 | League | West Region Premiership | vs. Irvine Meadow (A) | 3 - 0 | |
| Aug 1st, 2018 | 01/08/18 | Sectional League Cup | Group 9 | vs. Yoker Athletic (A) | 6 - 0 | |
| Jul 30th, 2018 | 30/07/18 | Sectional League Cup | Group 9 | vs. Vale of Leven (H) | 3 - 0 | (sub) |
| Jul 28th, 2018 | 28/07/18 | Sectional League Cup | Group 9 | vs. Vale of Clyde (H) | 2 - 0 | |
Biography
There is no bio for this player yet.


Debut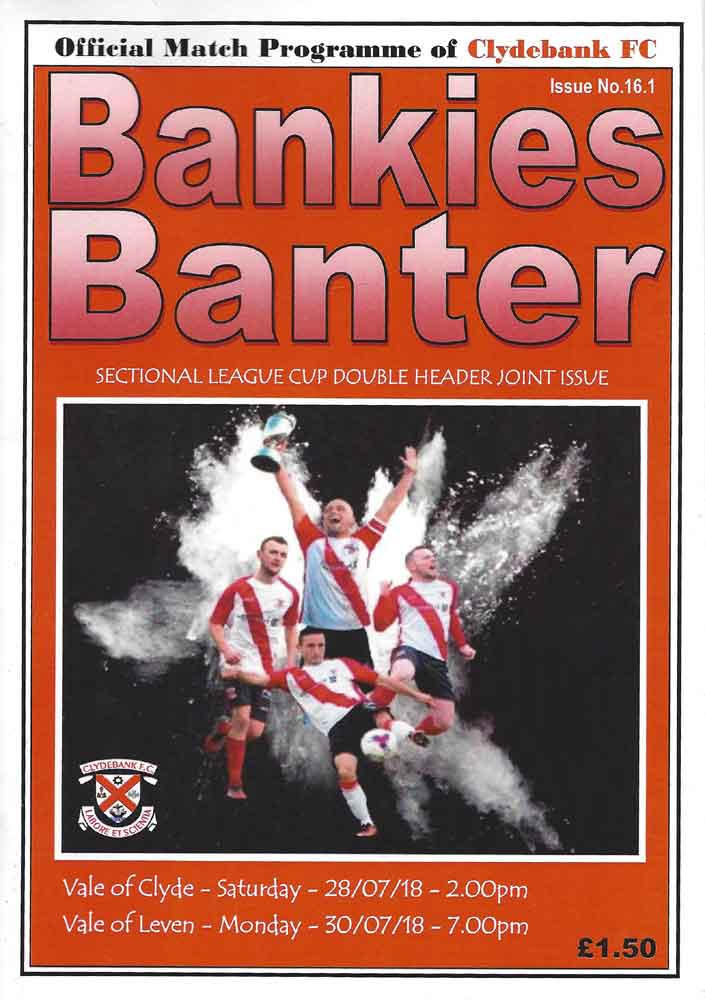 July 28th, 2018
Clydebank 2 - 0 Vale of Clyde
Sectional League Cup (Group 9)
Timeline
Date of Birth

Liam was born on this date in .

Clydebank got their 2018-19 campaign off to a winning start with a routine victory over Vale of Clyde this afternoon. Playing at Lochburn Park, which will host the Bankies home games this season whilst Holm Park is redeveloped, goals from Jordan Shelvey and Sean Higgins separated the two sides.

Part one of the Bankies double header with Pollok ended in a narrow defeat with the Newlandsfield men winning by the odd goal in three. Overall, the match was fairly even with Pollok being the better side in the first half and the Bankies vastly improved in the second only to lose out to a late goal by Shaun Fraser.
Collectables (Stickers & Cards)
Sorry, there are no cards or stickers available for this player.
---
Magazine Articles
Sorry, there are no magazine articles available for this player.