Playing History
| Season | Division | | | G2G | | | Win % | Draw % | Loss % |
| --- | --- | --- | --- | --- | --- | --- | --- | --- | --- |
| 2018-19 | West Region Premiership | - (2) | 0 | - | 0 | 0 | 50.0% | 50.0% | 0.0% |
| Totals: | | 0 (2) | 0 | | | | | | |
Apps = First Team Appearances (Sub Appearances) | Gls = Goals
GtGR = Goals to Games Ratio | W/D/L - Games won, drawn or lost as percentage of games played in
Yel = Yellow Cards/Cautions | Red = Red Cards/Dismissals
List of Goals Scored
None
List of Games Played (click to expand)
| | | | | | | |
| --- | --- | --- | --- | --- | --- | --- |
| Apr 13th, 2019 | 13/04/19 | League | West Region Premiership | vs. Renfrew (H) | 3 - 1 | (sub) |
| Mar 30th, 2019 | 30/03/19 | League | West Region Premiership | vs. Cumnock (H) | 2 - 2 | (sub) |
Biography
There is no bio for this player yet.


Debut (as sub)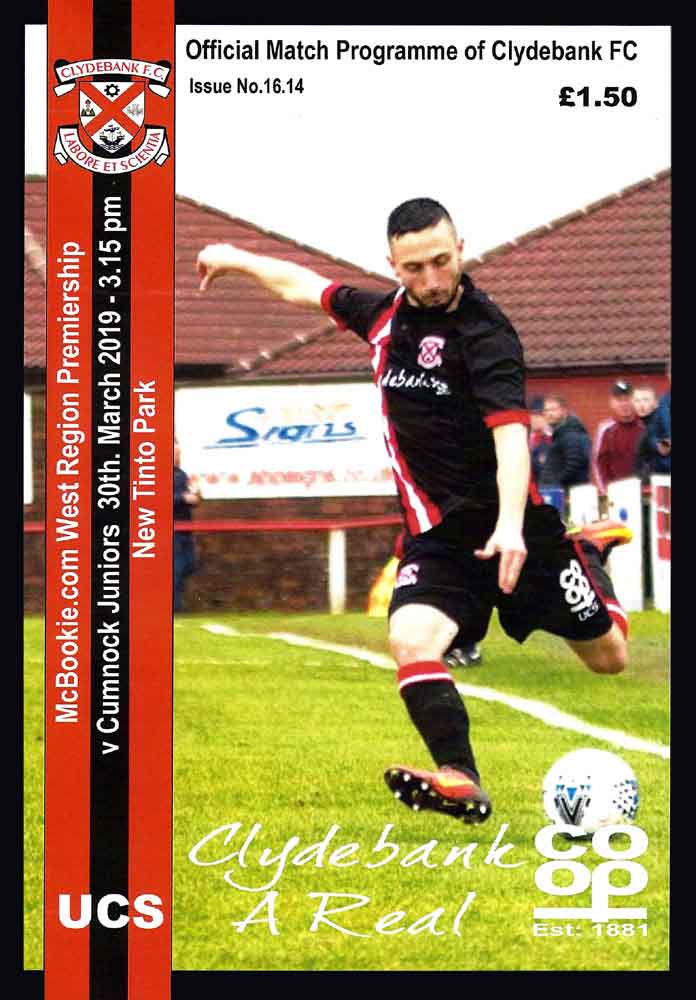 March 30th, 2019
Clydebank 2 - 2 Cumnock Juniors
League (West Region Premiership)
Timeline
New Tinto Park became the latest in a long line of venues to host a Clydebank FC home match, but with the redevelopment of Holm Park due to be completed soon, hopefully it will be the last. In the first of a series of nine meaningless end of season matches the Bankies drew 2-2 with Cumnock in a match that neither team had the conviction to win. The Bankies twice had the lead and gave it away almost immediately on both occasions. All four goals were awful defensively and summed up a dreadful game that got worse the longer it went on.

A blistering start to this league match saw the Bankies score twice against lowly Renfrew in the first 90 seconds on their way to a 3-1 victory ending a five match winless streak. It was just as well they scored those early goals, as Renfrew did more than enough in the remaining 88 minutes to earn something from the game.
Collectables (Stickers & Cards)
Sorry, there are no cards or stickers available for this player.
---
Magazine Articles
Sorry, there are no magazine articles available for this player.