Playing History
| Season | Division | | | G2G | | | Win % | Draw % | Loss % |
| --- | --- | --- | --- | --- | --- | --- | --- | --- | --- |
| 2019-20 | West Region Premiership | 4 (6) | 0 | - | 2 | 0 | 20.0% | 30.0% | 50.0% |
| Totals: | | 4 (6) | 0 | | | | | | |
Apps = First Team Appearances (Sub Appearances) | Gls = Goals
GtGR = Goals to Games Ratio | W/D/L - Games won, drawn or lost as percentage of games played in
Yel = Yellow Cards/Cautions | Red = Red Cards/Dismissals
List of Goals Scored
None
List of Games Played (click to expand)
| | | | | | | |
| --- | --- | --- | --- | --- | --- | --- |
| Mar 11th, 2020 | 11/03/20 | League | West Region Premiership | vs. Auchinleck Talb (H) | 0 - 2 | (sub) |
| Mar 4th, 2020 | 04/03/20 | League | West Region Premiership | vs. Pollok (H) | 1 - 4 | (sub) |
| Feb 29th, 2020 | 29/02/20 | League | West Region Premiership | vs. Rossvale (A) | 2 - 1 | (sub) |
| Feb 8th, 2020 | 08/02/20 | League | West Region Premiership | vs. Hurlford United (A) | 0 - 0 | (sub) |
| Feb 1st, 2020 | 01/02/20 | League | West Region Premiership | vs. Beith Juniors (H) | 2 - 2 | (sub) |
| Jan 18th, 2020 | 18/01/20 | League | West Region Premiership | vs. Rutherglen Glen (A) | 1 - 2 | (sub) |
| Jan 11th, 2020 | 11/01/20 | West of Scotland Cup | 2nd Round | vs. Hurlford United (H) | 2 - 4 | |
| Jan 4th, 2020 | 04/01/20 | League | West Region Premiership | vs. Glenafton Ath (H) | 2 - 2 | |
| Dec 28th, 2019 | 28/12/19 | League | West Region Premiership | vs. Largs Thistle (A) | 3 - 2 | |
| Dec 21st, 2019 | 21/12/19 | League | West Region Premiership | vs. Kirk. Rob Roy (H) | 1 - 2 | |
Biography
There is no bio for this player yet.


Debut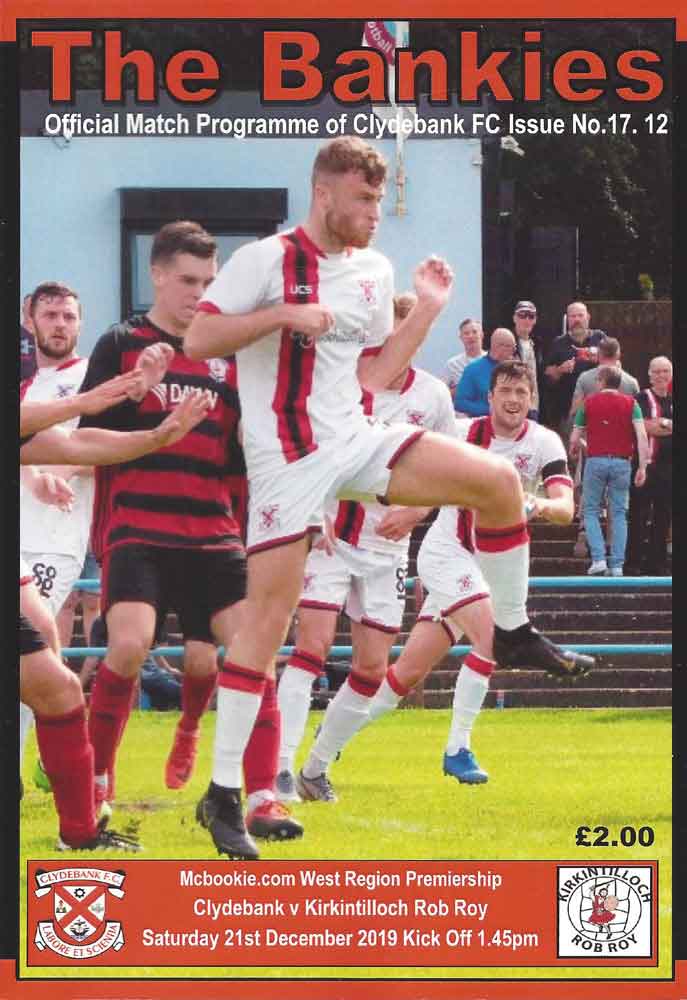 December 21st, 2019
Clydebank 1 - 2 Kirkintilloch Rob Roy
League (West Region Premiership)
Timeline
Clydebank sunk to a season low as they were easily beaten at home by bottom of the table Rob Roy by two goals to one. It was one of the worst performances from a Clydebank side in many a year and it was compounded by the fact that the visitors played with ten men for almost an hour after losing Carroll to a second bookable offence. This match has left supporters wondering where we go from here as there appears to be no light at the end of the tunnel as the club have now lost five consecutive league matches.

Two quick fire first half goals gave Auchinleck Talbot a comfortable 2-0 victory over the Bankies at Holm Park in this league clash. The Ayrshire side are now closing in ominously on Kilwinning Rangers as they look to make it back to back league titles. Clydebank did Ok and definitely played a lot better than they did against Pollok last week. However, the Bankies are lacking the cut and thrust that Talbot displayed and never really looked like getting anything out the game once they fell behind.
Collectables (Stickers & Cards)
Sorry, there are no cards or stickers available for this player.
---
Magazine Articles
Sorry, there are no magazine articles available for this player.