Playing History
| Season | Division | | | G2G | | | Win % | Draw % | Loss % |
| --- | --- | --- | --- | --- | --- | --- | --- | --- | --- |
| 2019-20 | West Region Premiership | 4 | 0 | - | 0 | 0 | 50.0% | 25.0% | 25.0% |
| 2018-19 | West Region Premiership | 3 | 0 | - | 0 | 0 | 0.0% | 33.3% | 66.7% |
| 2017-18 | Super Premier Division | 11 | 0 | - | 0 | 0 | 45.5% | 9.1% | 45.5% |
| Totals: | | 18 (0) | 0 | | | | | | |
Apps = First Team Appearances (Sub Appearances) | Gls = Goals
Cln = Clean Sheets | CtGR = Clean Sheets to Games Ratio | W/D/L - Games won, drawn or lost as percentage of games played in
Yel = Yellow Cards/Cautions | Red = Red Cards/Dismissals
List of Goals Scored
None
List of Games Played (click to expand)
| | | | | | | |
| --- | --- | --- | --- | --- | --- | --- |
| Jan 4th, 2020 | 04/01/20 | League | West Region Premiership | vs. Glenafton Ath (H) | 2 - 2 | |
| Dec 28th, 2019 | 28/12/19 | League | West Region Premiership | vs. Largs Thistle (A) | 3 - 2 | |
| Dec 21st, 2019 | 21/12/19 | League | West Region Premiership | vs. Kirk. Rob Roy (H) | 1 - 2 | |
| Jul 31st, 2019 | 31/07/19 | Sectional League Cup | Group 9 | vs. Vale of Clyde (A) | 2 - 0 | |
| Mar 30th, 2019 | 30/03/19 | League | West Region Premiership | vs. Cumnock (H) | 2 - 2 | |
| Nov 10th, 2018 | 10/11/18 | West of Scotland Cup | 1st Round | vs. Glas Perthshire (H) | 2 - 3 | |
| Aug 20th, 2018 | 20/08/18 | Sectional League Cup | Quarter Final | vs. Petershill (A) | 1 - 3 | |
| Jun 2nd, 2018 | 02/06/18 | League | (Super Premier Division) | vs. Hurlford United (A) | 3 - 6 | |
| Apr 25th, 2018 | 25/04/18 | Central League Cup | 2nd Round | vs. East Kilbride Th (H) | 1 - 3 | |
| Mar 31st, 2018 | 31/03/18 | West of Scotland Cup | 2nd Round | vs. Gartcairn (H) | 5 - 0 | |
| Jan 6th, 2018 | 06/01/18 | League | Super Premier Division | vs. Cumnock (A) | 2 - 5 | |
| Nov 5th, 2017 | 05/11/17 | Sectional League Cup | Final | vs. Pollok (N) | 2 - 0 | |
| Sep 9th, 2017 | 09/09/17 | League | Super Premier Division | vs. Auchinleck Talb (A) | 0 - 5 | |
| Sep 2nd, 2017 | 02/09/17 | League | Super Premier Division | vs. Beith Juniors (H) | 1 - 2 | |
| Aug 30th, 2017 | 30/08/17 | Sectional League Cup | Semi Final | vs. Cambuslang R (A) | 5 - 1 | |
| Aug 23rd, 2017 | 23/08/17 | Sectional League Cup | Quarter Final | vs. Kirk. Rob Roy (H) | 3 - 2 | |
| Aug 16th, 2017 | 16/08/17 | Sectional League Cup | Group 6 | vs. Yoker Athletic (A) | 1 - 1 | |
| Aug 9th, 2017 | 09/08/17 | Sectional League Cup | Group 6 | vs. Maryhill (H) | 3 - 1 | |
Biography
There is no bio for this player yet.


Debut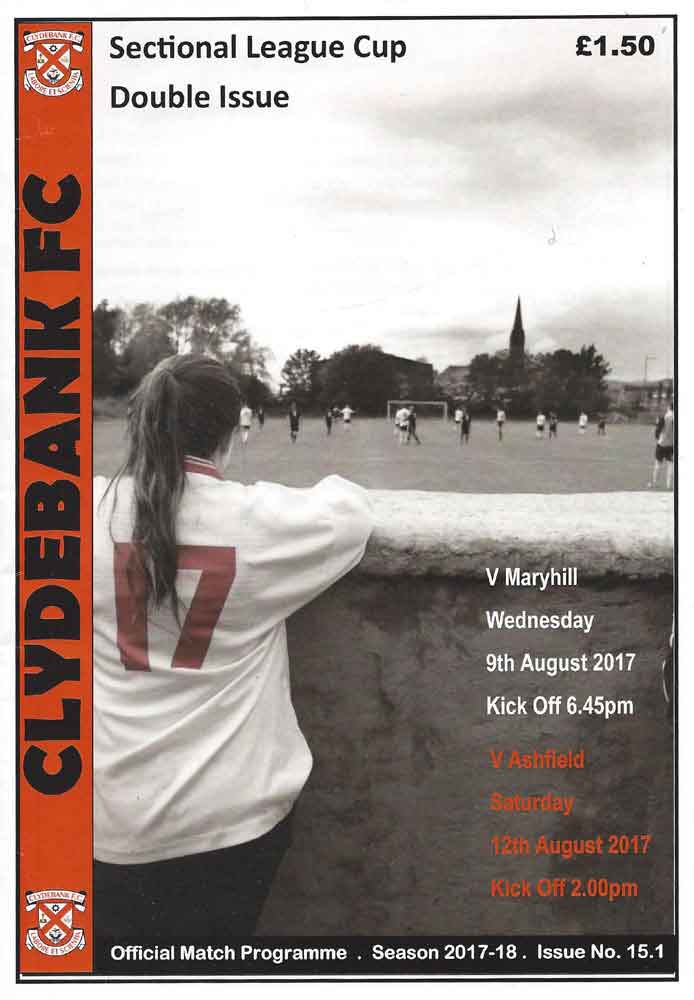 August 9th, 2017
Maryhill 1 - 3 Clydebank
Sectional League Cup (Group 6)
Timeline
Date of Birth

Scott was born on this date in .

The Bankies won this match without too much trouble, and was a marked improvement over the Perthshire game. The first half was fairly uninspiring with neither team looking all that great. As the half wore on the Bankies began to get the upper hand and Deas cracked in a fine shot to open the scoring. Shelvey added the second three minutes later when Maryhill keeper dropped a real clanger by letting the ball in through his legs. The game was pretty much over at this point as Maryhill had offered nothing going forward.

Clydebank's upturn in fortunes continued with a home draw against Glenafton Athletic at Holm Park. The Bankies looked on course for victory when they led through Nicky Little, however a red card for handball by Chris Black gave the visitors a lifeline which they took from the penalty spot. The Glens went in front minutes later before the 10 man Bankies could re-organise, however not to be outdone Nicky Little added his second of the match to give Clydebank a well-deserved point.
Collectables (Stickers & Cards)
Sorry, there are no cards or stickers available for this player.
---
Magazine Articles
Sorry, there are no magazine articles available for this player.