Playing History
| Season | Division | | | G2G | | | Win % | Draw % | Loss % |
| --- | --- | --- | --- | --- | --- | --- | --- | --- | --- |
| 1968-69 | Division Two | 15 | 0 | - | 0 | 0 | 20.0% | 26.7% | 53.3% |
| 1967-68 | Division Two | 16 | 0 | - | 0 | 0 | 25.0% | 37.5% | 37.5% |
| Totals: | | 31 (0) | 0 | | | | | | |
Apps = First Team Appearances (Sub Appearances) | Gls = Goals
GtGR = Goals to Games Ratio | W/D/L - Games won, drawn or lost as percentage of games played in
Yel = Yellow Cards/Cautions | Red = Red Cards/Dismissals
List of Goals Scored
None
List of Games Played (click to expand)
| | | | | | | |
| --- | --- | --- | --- | --- | --- | --- |
| Nov 30th, 1968 | 30/11/68 | League | Division 2 | vs. Albion Rovers (A) | 1 - 3 | |
| Nov 16th, 1968 | 16/11/68 | League | Division 2 | vs. Motherwell (H) | 0 - 4 | |
| Nov 2nd, 1968 | 02/11/68 | League | Division 2 | vs. Stranraer (H) | 2 - 2 | |
| Oct 19th, 1968 | 19/10/68 | League | Division 2 | vs. East Stirlingshire (H) | 0 - 4 | |
| Oct 12th, 1968 | 12/10/68 | League | Division 2 | vs. Hamilton Accies (A) | 2 - 1 | |
| Sep 18th, 1968 | 18/09/68 | League | Division 2 | vs. Cowdenbeath (H) | 1 - 1 | |
| Sep 14th, 1968 | 14/09/68 | League | Division 2 | vs. Queen's Park (A) | 4 - 2 | |
| Sep 11th, 1968 | 11/09/68 | League | Division 2 | vs. Cowdenbeath (A) | 3 - 3 | |
| Sep 7th, 1968 | 07/09/68 | League | Division 2 | vs. Dumbarton (H) | 0 - 1 | |
| Sep 4th, 1968 | 04/09/68 | League | Division 2 | vs. Brechin City (H) | 0 - 0 | |
| Aug 24th, 1968 | 24/08/68 | League Cup | Group 6 | vs. East Fife (H) | 1 - 3 | |
| Aug 21st, 1968 | 21/08/68 | League | Division 2 | vs. Brechin City (A) | 1 - 3 | |
| Aug 17th, 1968 | 17/08/68 | League Cup | Group 6 | vs. Queen of South (A) | 2 - 1 | |
| Aug 14th, 1968 | 14/08/68 | League Cup | Group 6 | vs. Berwick Rangers (H) | 2 - 4 | |
| Aug 10th, 1968 | 10/08/68 | League Cup | Group 6 | vs. East Fife (A) | 0 - 2 | |
| Apr 13th, 1968 | 13/04/68 | League | Division 2 | vs. Stenhousemuir (A) | 1 - 2 | |
| Apr 10th, 1968 | 10/04/68 | League | Division 2 | vs. East Fife (A) | 0 - 6 | |
| Apr 6th, 1968 | 06/04/68 | League | Division 2 | vs. Forfar Ath (H) | 2 - 3 | |
| Apr 3rd, 1968 | 03/04/68 | League | Division 2 | vs. Hamilton Accies (H) | 3 - 2 | |
| Mar 30th, 1968 | 30/03/68 | League | Division 2 | vs. Stranraer (A) | 1 - 1 | |
| Mar 20th, 1968 | 20/03/68 | League | Division 2 | vs. Queen of South (H) | 2 - 4 | |
| Mar 16th, 1968 | 16/03/68 | League | Division 2 | vs. St Mirren (A) | 0 - 3 | |
| Mar 9th, 1968 | 09/03/68 | League | Division 2 | vs. Brechin City (H) | 2 - 2 | |
| Mar 2nd, 1968 | 02/03/68 | League | Division 2 | vs. Alloa Athletic (A) | 1 - 0 | |
| Feb 23rd, 1968 | 23/02/68 | League | Division 2 | vs. Ayr Utd (H) | 2 - 2 | |
| Feb 17th, 1968 | 17/02/68 | League | Division 2 | vs. Berwick Rangers (H) | 1 - 0 | |
| Feb 10th, 1968 | 10/02/68 | League | Division 2 | vs. Arbroath (A) | 0 - 4 | |
| Jan 17th, 1968 | 17/01/68 | Scottish Cup | 2nd Preliminary Round Replay | vs. Queen of South (H) | 2 - 2 | |
| Jan 13th, 1968 | 13/01/68 | League | Division 2 | vs. Albion Rovers (A) | 0 - 0 | |
| Nov 4th, 1967 | 04/11/67 | League | Division 2 | vs. Alloa Athletic (H) | 4 - 1 | |
| Oct 28th, 1967 | 28/10/67 | League | Division 2 | vs. Berwick Rangers (A) | 1 - 1 | |
Biography
Eddie Rutherford transferred in September 1967 from Albion Rovers. He was a strange signing at a time when a revolving door was fitted at Kilbowie as players arrived and departed at bewildering speed. Eddie Rutherford was an outside right. We had just sold Joe Rankin, a right winger, to Morton for a small fee and replaced him with Harry Rutherford, no relation, a right winger from Ayr United, just a few months before the signing of Eddie Rutherford.

Eddie Rutherford was to find the competition for the Number 7 intense and as a result only played 15 games in his first season and sixteen games in his second and last season. In that first season, Harry Rutherford and Arthur Paterson were his main competition but towards the end of the season another young winger was about to breakthrough, Gerry O' Brien got a three game run out to parade his skills. By the start of Eddie's second season, Harry Rutherford and Arthur Paterson had exited through the revolving door, but greater competition had arrived in the shape of John McGunnigle and young Gerry O' Brien.

Eddie made his debut away to Berwick Rangers on 28 October 1967 in a 1-1 draw, ironically, not wearing the number 7 jersey which was Harry Rutherford, but in the number 11 jersey. The following week he made almost an ideal home debut against Alloa Athletic on 4 November 1967 at Kilbowie Park. A first half hat-trick from Tony Moy had Clydebank 3-0 up at the interval. Unfortunately Eddie came off injured just after the break to be replaced by Frank Russell as Clydebank ran out comfortable 4-1 winners. Eddie was out for six weeks with this injury and did not return until a match against his old team Albion Rovers on 13 January 1968 at Cliftonhill which ended goalless. The following Wednesday Eddie was in the Clydebank team that drew 2-2 with Queen of the South, after extra time, thanks to two goals from Tony Moy, in the exciting series of Scottish Cup ties. Again Eddie was injured and was out for another month.

The rest of the season was to see Eddie and Clydebank involved in some bizarre games and scenarios. On 16 March 1968 Clydebank were 1-0 down but right in the match against the runaway league leaders St Mirren at Love Street, who had scored through Peter Kane, who himself would later become a Bankie. Just after the hour mark, goalkeeper Dick Madden was injured, he carried on for a while but had to be substituted by John Baxter on 70 minutes. Two goals in the last five minutes wrapped up a 3-0 win. St. Mirren recorded 17 straight wins that season, a record that stands to this day. Eddie then seen four or five new goalkeepers between the sticks in the remaining games. He played in the infamous 6-0 loss at East Fife when Clydebank conceded a first half penalty, had Stan King and Tony Moy sent off before the break, Dennis Ruddy sent off in the second half. To knock the nail on the head, the trialist goalie, Bobby Hodge who had got lost on his way to Bayview and arrived just before kick off, was injured and carried off to be replaced by John Baxter who took over in goals.

Eddie's last season saw the emergence of Gerry O' Brien and because of the injury situation more and more of the Bankies Babes were getting into and staying in this Clydebank team. Eddie played his last game for Clydebank against his former club Albion Rovers at Cliftonhill as The Bankies went down 3-1 with a double coming from Tony Green, a very talented boy, who was capped 7 times by Scotland, but had his career tragically cut short by injury when playing with Newcastle United.

Eddie moved on to Queen of the South and then Whitburn Juniors were he would have met up again with Bobby Hodge the trialist goalie against East Fife.


Debut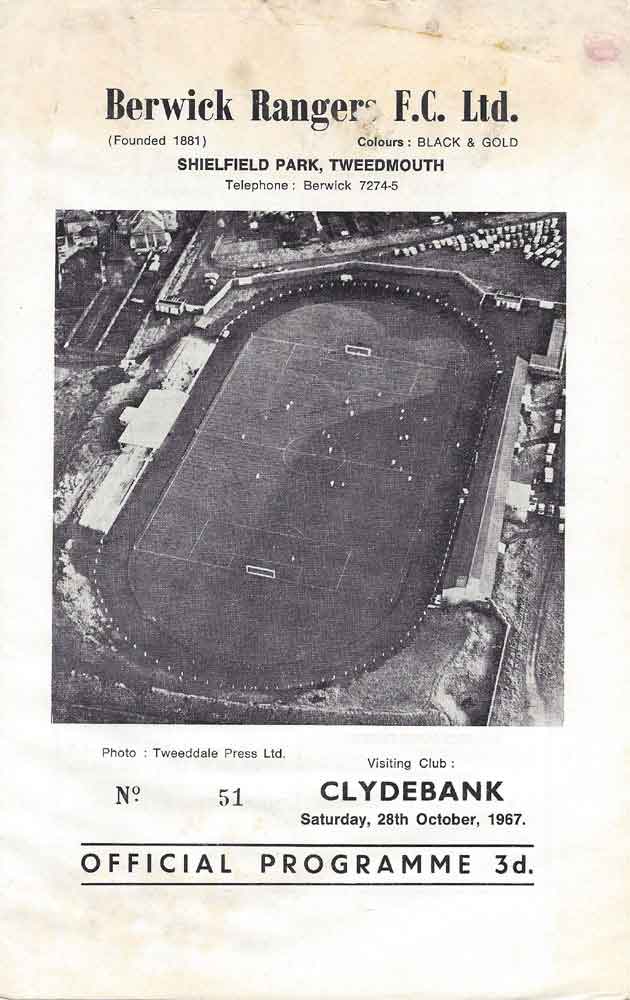 October 28th, 1967
Berwick Rangers 1 - 1 Clydebank FC
League (Division 2)
Player Gallery
Sorry, there are no cards or stickers available for this player.
---
Magazine Articles
Sorry, there are no magazine articles available for this player.