Playing History
| Season | Division | | | G2G | | | Win % | Draw % | Loss % |
| --- | --- | --- | --- | --- | --- | --- | --- | --- | --- |
| 2015-16 | Super League Division One | 19 (15) | 10 | 0.29 | 0 | 0 | 55.9% | 23.5% | 20.6% |
| 2010-11 | Super League Division One | 2 | 0 | - | 0 | 0 | 50.0% | 50.0% | 0.0% |
| Totals: | | 21 (15) | 10 | | | | | | |
Apps = First Team Appearances (Sub Appearances) | Gls = Goals
GtGR = Goals to Games Ratio | W/D/L - Games won, drawn or lost as percentage of games played in
Yel = Yellow Cards/Cautions | Red = Red Cards/Dismissals
List of Goals Scored (click to expand)
| | | | | | | |
| --- | --- | --- | --- | --- | --- | --- |
| Mar 19th, 2016 | 19/03/16 | League | Super Division One | vs. Cumnock (H) | 2 - 2 | (5') |
| Mar 19th, 2016 | 19/03/16 | League | Super Division One | vs. Cumnock (H) | 2 - 2 | (75') |
| Nov 7th, 2015 | 07/11/15 | League | Super Division One | vs. Maybole (A) | 4 - 3 | (90') |
| Oct 10th, 2015 | 10/10/15 | West of Scotland Cup | 1st Round | vs. Rutherglen Glen (A) | 4 - 2 | (76') |
| Sep 5th, 2015 | 05/09/15 | League | Super Division One | vs. Cumbernauld Un (H) | 5 - 0 | (85') |
| Aug 15th, 2015 | 15/08/15 | Sectional League Cup | Group 6 | vs. Glas Perthshire (A) | 7 - 1 | (80') |
| Aug 15th, 2015 | 15/08/15 | Sectional League Cup | Group 6 | vs. Glas Perthshire (A) | 7 - 1 | (38') |
| Aug 15th, 2015 | 15/08/15 | Sectional League Cup | Group 6 | vs. Glas Perthshire (A) | 7 - 1 | (59') |
| Aug 8th, 2015 | 08/08/15 | Sectional League Cup | Group 6 | vs. Ashfield (H) | 3 - 0 | (74') |
| Aug 8th, 2015 | 08/08/15 | Sectional League Cup | Group 6 | vs. Ashfield (H) | 3 - 0 | (79') |
List of Games Played (click to expand)
| | | | | | | |
| --- | --- | --- | --- | --- | --- | --- |
| May 25th, 2016 | 25/05/16 | League | Super Division One | vs. Rutherglen Glen (H) | 1 - 1 | (sub) |
| May 21st, 2016 | 21/05/16 | League | Super Division One | vs. Cumnock (A) | 3 - 0 | (sub) |
| May 14th, 2016 | 14/05/16 | League | Super Division One | vs. Kilwinning Rgrs (A) | 1 - 1 | (sub) |
| May 11th, 2016 | 11/05/16 | League | Super Division One | vs. Blantyre Vics (H) | 5 - 3 | (sub) |
| May 9th, 2016 | 09/05/16 | League | Super Division One | vs. Cumbernauld Un (A) | 5 - 1 | (sub) |
| May 7th, 2016 | 07/05/16 | League | Super Division One | vs. Greenock Jrs (A) | 2 - 2 | (sub) |
| May 4th, 2016 | 04/05/16 | League | Super Division One | vs. Kilsyth Rangers (H) | 1 - 1 | |
| Apr 30th, 2016 | 30/04/16 | West of Scotland Cup | Quarter Final | vs. Auchinleck Talb (A) | 1 - 1 | |
| Apr 27th, 2016 | 27/04/16 | League | Super Division One | vs. Shotts Bon Acc (H) | 4 - 0 | |
| Apr 25th, 2016 | 25/04/16 | League | Super Division One | vs. Blantyre Vics (A) | 0 - 2 | |
| Apr 20th, 2016 | 20/04/16 | West of Scotland Cup | 3rd Round | vs. Kirk. Rob Roy (A) | 3 - 1 | (sub) |
| Apr 16th, 2016 | 16/04/16 | League | Super Division One | vs. Ardrossan WR (H) | 0 - 4 | |
| Apr 2nd, 2016 | 02/04/16 | Central League Cup | 1st Round | vs. Kilsyth Rangers (H) | 0 - 1 | |
| Mar 19th, 2016 | 19/03/16 | League | Super Division One | vs. Cumnock (H) | 2 - 2 | |
| Mar 12th, 2016 | 12/03/16 | League | Super Division One | vs. Kilsyth Rangers (A) | 1 - 0 | |
| Feb 27th, 2016 | 27/02/16 | West of Scotland Cup | 2nd Round | vs. Whitletts Victoria (H) | 2 - 1 | |
| Feb 13th, 2016 | 13/02/16 | League | Super Division One | vs. Bellshill Athletic (A) | 2 - 1 | |
| Jan 23rd, 2016 | 23/01/16 | League | Super Division One | vs. Maybole (H) | 3 - 0 | |
| Jan 9th, 2016 | 09/01/16 | League | Super Division One | vs. Greenock Jrs (H) | 2 - 0 | |
| Dec 12th, 2015 | 12/12/15 | League | Super Division One | vs. Yoker Athletic (A) | 0 - 0 | |
| Nov 21st, 2015 | 21/11/15 | Scottish Junior Cup | 3rd Round | vs. Kelty Hearts (H) | 0 - 1 | (sub) |
| Nov 7th, 2015 | 07/11/15 | League | Super Division One | vs. Maybole (A) | 4 - 3 | (sub) |
| Oct 31st, 2015 | 31/10/15 | League | Super Division One | vs. Kilwinning Rgrs (H) | 2 - 4 | |
| Oct 24th, 2015 | 24/10/15 | Scottish Junior Cup | 2nd Round | vs. Forfar West End (A) | 2 - 0 | |
| Oct 17th, 2015 | 17/10/15 | League | Super Division One | vs. Largs Thistle (A) | 0 - 2 | (sub) |
| Oct 10th, 2015 | 10/10/15 | West of Scotland Cup | 1st Round | vs. Rutherglen Glen (A) | 4 - 2 | |
| Oct 3rd, 2015 | 03/10/15 | League | Super Division One | vs. Yoker Athletic (H) | 1 - 1 | (sub) |
| Sep 5th, 2015 | 05/09/15 | League | Super Division One | vs. Cumbernauld Un (H) | 5 - 0 | (sub) |
| Aug 29th, 2015 | 29/08/15 | League | Super Division One | vs. Ardrossan WR (A) | 2 - 0 | |
| Aug 26th, 2015 | 26/08/15 | Sectional League Cup | Quarter Final | vs. Kirk. Rob Roy (A) | 0 - 2 | (sub) |
| Aug 22nd, 2015 | 22/08/15 | Sectional League Cup | Group 6 | vs. Maryhill (H) | 4 - 1 | |
| Aug 15th, 2015 | 15/08/15 | Sectional League Cup | Group 6 | vs. Glas Perthshire (A) | 7 - 1 | |
| Aug 12th, 2015 | 12/08/15 | Sectional League Cup | Group 6 | vs. Yoker Athletic (A) | 2 - 0 | (sub) |
| Aug 8th, 2015 | 08/08/15 | Sectional League Cup | Group 6 | vs. Ashfield (H) | 3 - 0 | (sub) |
| Sep 11th, 2010 | 11/09/10 | League | Super Division One | vs. Shotts Bon Acc (A) | 0 - 0 | |
| Sep 4th, 2010 | 04/09/10 | League | Super Division One | vs. Glenafton Ath (H) | 1 - 0 | |
Biography
There is no bio for this player yet.


Debut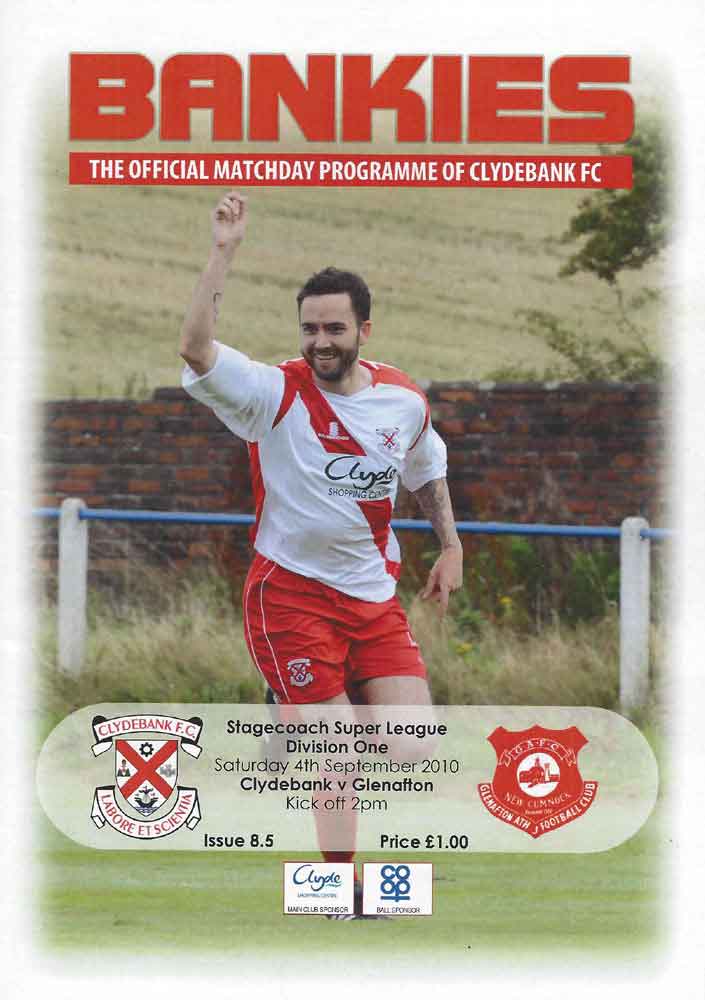 September 4th, 2010
Clydebank 1 - 0 Glenafton Athletic
League (Super Division One)
Timeline
Date of Birth

Ryan was born on this date in .

Paul Allum was the hero this afternoon when his stunning free kick effort gave the Bankies their first league victory of the season over Glenafton Athletic. Over the piece, the home side were the better of the two teams and deserved to collect the three points.
Collectables (Stickers & Cards)
Sorry, there are no cards or stickers available for this player.
---
Magazine Articles
Sorry, there are no magazine articles available for this player.