Playing History
| Season | Division | | | G2G | | | Win % | Draw % | Loss % |
| --- | --- | --- | --- | --- | --- | --- | --- | --- | --- |
| 2019-20 | West Region Premiership | 6 (9) | 4 | 0.27 | 0 | 0 | 46.7% | 13.3% | 40.0% |
| 2018-19 | West Region Premiership | 21 (10) | 9 | 0.29 | 1 | 0 | 58.1% | 9.7% | 32.3% |
| Totals: | | 27 (19) | 13 | | | | | | |
Apps = First Team Appearances (Sub Appearances) | Gls = Goals
GtGR = Goals to Games Ratio | W/D/L - Games won, drawn or lost as percentage of games played in
Yel = Yellow Cards/Cautions | Red = Red Cards/Dismissals
List of Goals Scored (click to expand)
| | | | | | | |
| --- | --- | --- | --- | --- | --- | --- |
| Nov 16th, 2019 | 16/11/19 | League | West Region Premiership | vs. Kilwinning Rgrs (A) | 1 - 2 | (27') |
| Nov 9th, 2019 | 09/11/19 | West of Scotland Cup | 1st Round | vs. Annbank United (H) | 7 - 0 | (13') |
| Nov 9th, 2019 | 09/11/19 | West of Scotland Cup | 1st Round | vs. Annbank United (H) | 7 - 0 | (77') |
| Oct 19th, 2019 | 19/10/19 | League | West Region Premiership | vs. Irvine Meadow (H) | 2 - 0 | (81') |
| Aug 21st, 2019 | 21/08/19 | League | West Region Premiership | vs. Kilbirnie Lade (H) | 5 - 2 | (90') |
| Mar 30th, 2019 | 30/03/19 | League | West Region Premiership | vs. Cumnock (H) | 2 - 2 | (9') |
| Feb 9th, 2019 | 09/02/19 | Scottish Junior Cup | 5th Round | vs. Girvan (A) | 7 - 1 | (71') |
| Feb 9th, 2019 | 09/02/19 | Scottish Junior Cup | 5th Round | vs. Girvan (A) | 7 - 1 | (77') p |
| Jan 12th, 2019 | 12/01/19 | League | West Region Premiership | vs. Kilwinning Rgrs (H) | 5 - 0 | (83') |
| Jan 12th, 2019 | 12/01/19 | League | West Region Premiership | vs. Kilwinning Rgrs (H) | 5 - 0 | (76') |
| Nov 3rd, 2018 | 03/11/18 | League | West Region Premiership | vs. Troon (A) | 5 - 1 | (6') |
| Oct 6th, 2018 | 06/10/18 | League | West Region Premiership | vs. Petershill (H) | 6 - 1 | (84') |
| Aug 15th, 2018 | 15/08/18 | Sectional League Cup | 2nd Round | vs. Rossvale (H) | 2 - 1 | (8') |
| Jul 30th, 2018 | 30/07/18 | Sectional League Cup | Group 9 | vs. Vale of Leven (H) | 3 - 0 | (88') |
List of Games Played (click to expand)
| | | | | | | |
| --- | --- | --- | --- | --- | --- | --- |
| Nov 23rd, 2019 | 23/11/19 | League | West Region Premiership | vs. Cumnock (A) | 0 - 2 | |
| Nov 16th, 2019 | 16/11/19 | League | West Region Premiership | vs. Kilwinning Rgrs (A) | 1 - 2 | |
| Nov 9th, 2019 | 09/11/19 | West of Scotland Cup | 1st Round | vs. Annbank United (H) | 7 - 0 | |
| Nov 2nd, 2019 | 02/11/19 | League | West Region Premiership | vs. Auchinleck Talb (A) | 0 - 3 | |
| Oct 26th, 2019 | 26/10/19 | Scottish Junior Cup | 3rd Round | vs. Petershill (A) | 0 - 1 | |
| Oct 19th, 2019 | 19/10/19 | League | West Region Premiership | vs. Irvine Meadow (H) | 2 - 0 | (sub) |
| Oct 12th, 2019 | 12/10/19 | League | West Region Premiership | vs. Hurlford United (H) | 3 - 0 | (sub) |
| Oct 5th, 2019 | 05/10/19 | League | West Region Premiership | vs. Cumnock (H) | 3 - 2 | (sub) |
| Sep 28th, 2019 | 28/09/19 | Scottish Junior Cup | 2nd Round | vs. Carluke Rovers (A) | 3 - 1 | (sub) |
| Aug 24th, 2019 | 24/08/19 | League | West Region Premiership | vs. Kirk. Rob Roy (A) | 2 - 1 | (sub) |
| Aug 21st, 2019 | 21/08/19 | League | West Region Premiership | vs. Kilbirnie Lade (H) | 5 - 2 | (sub) |
| Aug 17th, 2019 | 17/08/19 | League | West Region Premiership | vs. Troon (A) | 0 - 2 | (sub) |
| Aug 12th, 2019 | 12/08/19 | Sectional League Cup | 2nd Round | vs. Pollok (A) | 1 - 1 | |
| Aug 10th, 2019 | 10/08/19 | League | West Region Premiership | vs. Rossvale (H) | 1 - 3 | (sub) |
| Aug 7th, 2019 | 07/08/19 | League | West Region Premiership | vs. Beith Juniors (A) | 0 - 0 | (sub) |
| Mar 30th, 2019 | 30/03/19 | League | West Region Premiership | vs. Cumnock (H) | 2 - 2 | |
| Mar 2nd, 2019 | 02/03/19 | Scottish Junior Cup | Quarter Final Replay | vs. Hurlford United (H) | 1 - 3 | (sub) |
| Feb 23rd, 2019 | 23/02/19 | Scottish Junior Cup | Quarter Final | vs. Hurlford United (A) | 1 - 1 | (sub) |
| Feb 16th, 2019 | 16/02/19 | League | West Region Premiership | vs. Glenafton Ath (H) | 1 - 2 | |
| Feb 9th, 2019 | 09/02/19 | Scottish Junior Cup | 5th Round | vs. Girvan (A) | 7 - 1 | |
| Jan 19th, 2019 | 19/01/19 | League | West Region Premiership | vs. Largs Thistle (A) | 1 - 2 | |
| Jan 12th, 2019 | 12/01/19 | League | West Region Premiership | vs. Kilwinning Rgrs (H) | 5 - 0 | |
| Jan 5th, 2019 | 05/01/19 | League | West Region Premiership | vs. Petershill (A) | 3 - 0 | |
| Dec 1st, 2018 | 01/12/18 | League | West Region Premiership | vs. Hurlford United (A) | 2 - 5 | (sub) |
| Nov 24th, 2018 | 24/11/18 | Scottish Junior Cup | 4th Round | vs. Royal Albert (A) | 3 - 1 | |
| Nov 17th, 2018 | 17/11/18 | League | West Region Premiership | vs. Cambuslang R (A) | 2 - 1 | |
| Nov 10th, 2018 | 10/11/18 | West of Scotland Cup | 1st Round | vs. Glas Perthshire (H) | 2 - 3 | |
| Nov 3rd, 2018 | 03/11/18 | League | West Region Premiership | vs. Troon (A) | 5 - 1 | |
| Oct 27th, 2018 | 27/10/18 | Scottish Junior Cup | 3rd Round | vs. Kinnoull (A) | 3 - 0 | |
| Oct 20th, 2018 | 20/10/18 | League | West Region Premiership | vs. Largs Thistle (H) | 3 - 0 | |
| Oct 13th, 2018 | 13/10/18 | League | West Region Premiership | vs. Renfrew (A) | 0 - 1 | (sub) |
| Oct 6th, 2018 | 06/10/18 | League | West Region Premiership | vs. Petershill (H) | 6 - 1 | (sub) |
| Sep 29th, 2018 | 29/09/18 | Scottish Junior Cup | 2nd Round | vs. Armadale Th (H) | 4 - 0 | |
| Sep 22nd, 2018 | 22/09/18 | League | West Region Premiership | vs. Cumnock (A) | 2 - 3 | |
| Sep 15th, 2018 | 15/09/18 | League | West Region Premiership | vs. Hurlford United (H) | 0 - 1 | (sub) |
| Sep 8th, 2018 | 08/09/18 | League | West Region Premiership | vs. Glenafton Ath (A) | 2 - 0 | (sub) |
| Sep 1st, 2018 | 01/09/18 | League | West Region Premiership | vs. Kilbirnie Lade (H) | 2 - 0 | (sub) |
| Aug 20th, 2018 | 20/08/18 | Sectional League Cup | Quarter Final | vs. Petershill (A) | 1 - 3 | |
| Aug 18th, 2018 | 18/08/18 | League | West Region Premiership | vs. Auchinleck Talb (A) | 0 - 4 | |
| Aug 15th, 2018 | 15/08/18 | Sectional League Cup | 2nd Round | vs. Rossvale (H) | 2 - 1 | |
| Aug 11th, 2018 | 11/08/18 | League | West Region Premiership | vs. Cambuslang R (H) | 3 - 3 | (sub) |
| Aug 8th, 2018 | 08/08/18 | League | West Region Premiership | vs. Kirk. Rob Roy (A) | 2 - 1 | |
| Aug 4th, 2018 | 04/08/18 | League | West Region Premiership | vs. Irvine Meadow (A) | 3 - 0 | |
| Aug 1st, 2018 | 01/08/18 | Sectional League Cup | Group 9 | vs. Yoker Athletic (A) | 6 - 0 | |
| Jul 30th, 2018 | 30/07/18 | Sectional League Cup | Group 9 | vs. Vale of Leven (H) | 3 - 0 | (sub) |
| Jul 28th, 2018 | 28/07/18 | Sectional League Cup | Group 9 | vs. Vale of Clyde (H) | 2 - 0 | |
Biography
There is no bio for this player yet.


Debut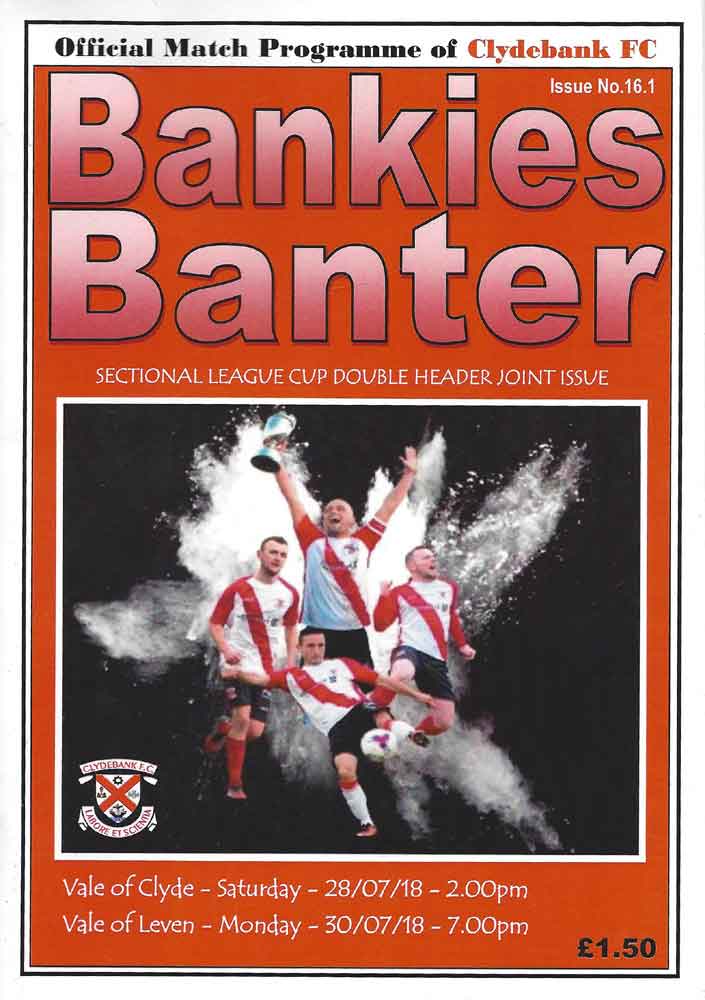 July 28th, 2018
Clydebank 2 - 0 Vale of Clyde
Sectional League Cup (Group 9)
Timeline
Date of Birth

Del was born on this date in .

Clydebank got their 2018-19 campaign off to a winning start with a routine victory over Vale of Clyde this afternoon. Playing at Lochburn Park, which will host the Bankies home games this season whilst Holm Park is redeveloped, goals from Jordan Shelvey and Sean Higgins separated the two sides.

Clydebank brushed aside Vale of Leven with a strong second half performance scoring three times without reply to top their group table in the Sectional League Cup. Stevie Higgins scored the opener seconds before the interval and first goals for Chris Dooley and Del Hepburn tied up the points.

Clydebank can count themselves unlucky not to take a point from league leaders Kilwinning Rangers at the Buffs Park after a spirited second half display. The goal that separated the two sides over the 90 minutes was as good as you are likely to see as veteran Carlo Monti smashed an unstoppable shot into the top corner of the goal clipping the underside of the bar as it went in.

Well, the honeymoon period for Gordon Moffat is well and truly over. The Bankies went down to a meek 2-0 defeat at Cumnock ringing up their fourth defeat in five matches in a dire, dire game of football. The manager has inherited a squad that simply aren't up to the task, and the sooner that he can bring in his own players the better. The loss of Jordan Shelvey, sold to Pollok last week was felt palpably as Clydebank have few enough top quality players. So, to lose one showed up today as not one of the forward players can be happy about their performances as hardly a shot was made in front of the Cumnock goal.
Collectables (Stickers & Cards)
Sorry, there are no cards or stickers available for this player.
---
Magazine Articles
Sorry, there are no magazine articles available for this player.