Playing History
| Season | Division | | | G2G | | | Win % | Draw % | Loss % |
| --- | --- | --- | --- | --- | --- | --- | --- | --- | --- |
| 1977-78 | Premier Division | 8 | 0 | - | 0 | 0 | 12.5% | 25.0% | 62.5% |
| Totals: | | 8 (0) | 0 | | | | | | |
Apps = First Team Appearances (Sub Appearances) | Gls = Goals
Cln = Clean Sheets | CtGR = Clean Sheets to Games Ratio | W/D/L - Games won, drawn or lost as percentage of games played in
Yel = Yellow Cards/Cautions | Red = Red Cards/Dismissals
List of Goals Scored
None
List of Games Played (click to expand)
Biography
Clydebank had Scotland's number one goalie between the sticks at Kilbowie but needed a back up keeper. Denis Connaghan had been released by Celtic and had joined Clydebank on a short term contract, the only action he seen was with the reserves. It was agreed that he could move on and he joined Morton. Colin King arrived from Blackpool as his replacement.

Clydebank had sold their prize asset Davie Cooper to Rangers for £100,000 and were about to start playing in the Premier League for the first time after two successive promotions. Colin King made his debut on 24 August 1977 in the second leg of a League Cup tie against East Fife at Bayview. Clydebank carried forward a 5-0 first leg lead and Colin recorded a clean sheet with a confident performance in a 1-0 victory.

Colin King made his home debut and Premier League debut on 22 October 1977 against our promotion rivals St. Mirren who had Tony Fitzpatrick, Frank McGarvey and Billy Stark in their line up. As usual when these teams meet an exciting match is the end product, and this was no different.

St. Mirren took an early lead, Billy McColl missed a penalty as Clydebank tried to draw level, but Mike Larnach with a double had Clydebank ahead at the interval. Billy Stark grabbed an equaliser 15 minutes for the Saints in a game that was anyone's to win or lose.

Colin retained his place the following Wednesday in the second leg of the League Cup tie against Dunfermline at Kilbowie, with the Bankies trailing
2-0 after the first leg. This deficit was cleared as Clydebank raced into a 2-0 lead within the first 15 minutes, however Dunfermline hit back with a goal just before half time. Clydebank tried everything to get another goal to level the tie, but 2 minutes from time Dunfermline broke away and scored an equaliser.

Colin King did not appear again until a Jim Gallacher injury saw Colin get a five match run of successive games, all were close matches but all were lost and in four we failed to find the net, with Joe McCallan's 30 yard thunderball against Motherwell the only one to hit the net. A further setback for the Bankies was the sale of Mike Larnach to Newcastle United on the eve of the Aberdeen match on 31 December 1977. Bankies played young Sandy McNaughton at centre forward in place of Mike Larnach, but Colin King was to remember this game. Bankies played well considering the handicap they had, but just 10 minutes before half time King raced out and booted the ball up the park, 30-40 yards out John McMaster fired the ball straight back at the empty Clydebank goal and the Bankies went down 1-0.

Colin played his last Clydebank game early in the New Year in a 2-0 defeat at Easter Road against Hibs, with another ex Clydebank goalkeeper Mike McDonald in the opposite goal. He left at the end of the season and moved to Notts County, joining others at the exit door including Joe McCallan, Gerry O'Brien for the second time, and Sandy McNaughton, as an exciting and successful period in Clydebank history came to a close.

Colin King came in at difficult time and should be proud of his performances for Clydebank.


Debut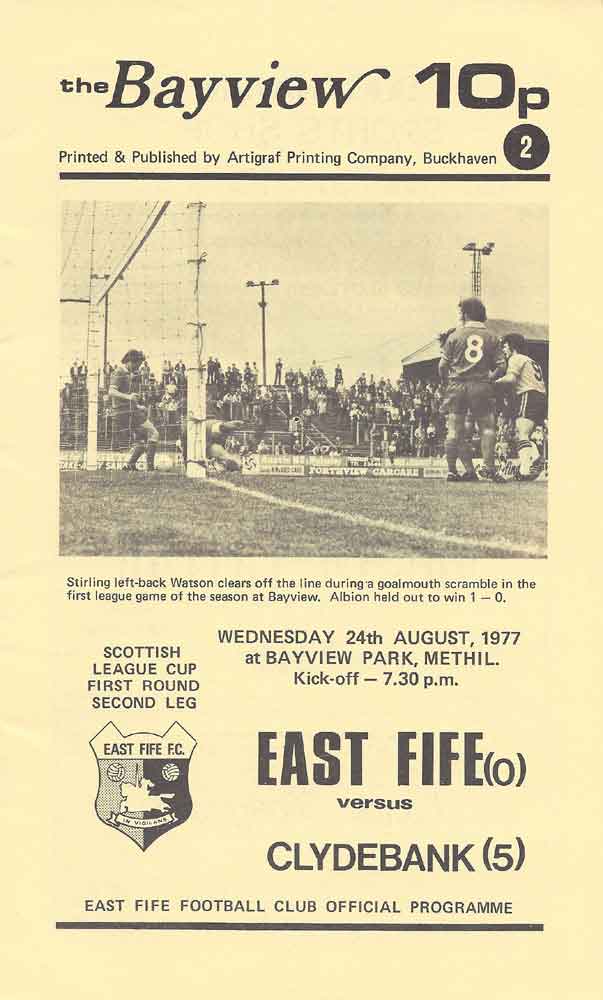 August 24th, 1977
East Fife 0 - 1 Clydebank FC
League Cup (1st Round 2nd Leg)
Timeline
---
Date of Birth


Colin was born on this date in Edinburgh.

---

Left the Club


Colin was given a free transfer at the end of the season

---
Player Gallery
Sorry, there are no cards or stickers available for this player.
---
Magazine Articles
Sorry, there are no magazine articles available for this player.