Playing History
| Season | Division | | | G2G | | | Win % | Draw % | Loss % |
| --- | --- | --- | --- | --- | --- | --- | --- | --- | --- |
| 1967-68 | Division Two | 1 | 0 | - | 0 | 0 | 100.0% | 0.0% | 0.0% |
| 1966-67 | Division Two | 30 | 0 | - | 0 | 0 | 30.0% | 26.7% | 43.3% |
| Totals: | | 31 (0) | 0 | | | | | | |
Apps = First Team Appearances (Sub Appearances) | Gls = Goals
Cln = Clean Sheets | CtGR = Clean Sheets to Games Ratio | W/D/L - Games won, drawn or lost as percentage of games played in
Yel = Yellow Cards/Cautions | Red = Red Cards/Dismissals
List of Goals Scored
None
List of Games Played (click to expand)
| | | | | | | |
| --- | --- | --- | --- | --- | --- | --- |
| Sep 16th, 1967 | 16/09/67 | League | Division 2 | vs. Cowdenbeath (H) | 2 - 0 | |
| Apr 22nd, 1967 | 22/04/67 | League | Division 2 | vs. Stenhousemuir (H) | 2 - 3 | |
| Apr 15th, 1967 | 15/04/67 | League | Division 2 | vs. Third Lanark (A) | 0 - 1 | |
| Apr 8th, 1967 | 08/04/67 | League | Division 2 | vs. East Stirlingshire (A) | 5 - 1 | |
| Apr 1st, 1967 | 01/04/67 | League | Division 2 | vs. Hamilton Accies (H) | 0 - 4 | |
| Mar 25th, 1967 | 25/03/67 | League | Division 2 | vs. Cowdenbeath (H) | 2 - 3 | |
| Mar 22nd, 1967 | 22/03/67 | League | Division 2 | vs. Queen's Park (A) | 2 - 4 | |
| Mar 18th, 1967 | 18/03/67 | League | Division 2 | vs. Brechin City (A) | 1 - 3 | |
| Mar 11th, 1967 | 11/03/67 | League | Division 2 | vs. Forfar Ath (H) | 3 - 0 | |
| Mar 4th, 1967 | 04/03/67 | League | Division 2 | vs. Alloa Athletic (A) | 1 - 1 | |
| Feb 25th, 1967 | 25/02/67 | League | Division 2 | vs. Stranraer (H) | 4 - 0 | |
| Feb 18th, 1967 | 18/02/67 | League | Division 2 | vs. Third Lanark (H) | 0 - 2 | |
| Feb 11th, 1967 | 11/02/67 | League | Division 2 | vs. Queen of South (A) | 0 - 2 | |
| Feb 4th, 1967 | 04/02/67 | League | Division 2 | vs. Berwick Rangers (H) | 2 - 4 | |
| Jan 28th, 1967 | 28/01/67 | League | Division 2 | vs. Montrose (A) | 1 - 1 | |
| Jan 21st, 1967 | 21/01/67 | League | Division 2 | vs. Albion Rovers (A) | 2 - 0 | |
| Jan 14th, 1967 | 14/01/67 | League | Division 2 | vs. Morton (H) | 0 - 1 | |
| Jan 7th, 1967 | 07/01/67 | Scottish Cup | 2nd Preliminary Round | vs. Dumbarton (A) | 0 - 2 | |
| Jan 3rd, 1967 | 03/01/67 | League | Division 2 | vs. Raith Rovers (H) | 3 - 2 | |
| Jan 2nd, 1967 | 02/01/67 | League | Division 2 | vs. Dumbarton (A) | 2 - 2 | |
| Dec 31st, 1966 | 31/12/66 | League | Division 2 | vs. Queen's Park (H) | 4 - 2 | |
| Dec 24th, 1966 | 24/12/66 | League | Division 2 | vs. Stenhousemuir (A) | 4 - 4 | |
| Dec 17th, 1966 | 17/12/66 | Scottish Cup | 1st Preliminary Round | vs. Rothes (A) | 2 - 1 | |
| Dec 10th, 1966 | 10/12/66 | League | Division 2 | vs. East Stirlingshire (H) | 3 - 1 | |
| Dec 3rd, 1966 | 03/12/66 | League | Division 2 | vs. Hamilton Accies (A) | 0 - 0 | |
| Nov 26th, 1966 | 26/11/66 | League | Division 2 | vs. Cowdenbeath (A) | 0 - 4 | |
| Nov 19th, 1966 | 19/11/66 | League | Division 2 | vs. Brechin City (H) | 4 - 2 | |
| Nov 5th, 1966 | 05/11/66 | League | Division 2 | vs. Alloa Athletic (H) | 0 - 2 | |
| Oct 29th, 1966 | 29/10/66 | League | Division 2 | vs. Stranraer (A) | 2 - 2 | |
| Oct 22nd, 1966 | 22/10/66 | League | Division 2 | vs. Queen of South (H) | 3 - 3 | |
| Oct 15th, 1966 | 15/10/66 | League | Division 2 | vs. Berwick Rangers (A) | 1 - 1 | |
Biography
Brought in from Stranraer in October 1966 after the horrendous start Clydebank made to Scottish League football which read, played nine, won nil, drew nil, lost nine, goals for seven, goals against thirty three.

Sandy made his debut away to Berwick Rangers in a 1-1 draw on 15 October 1966 thanks to a Tommy McGhee equaliser. Draws in the next two matches steadied the Bankies ship, but our first victory in the league did not arrive until the 19th November 1966 with a 4-2 home victory over Brechin City. And therein lay the problem, goals were still being conceded. Sandy only had two shut outs in thirty league games. He was surprisingly on the retained list at the end of the season but Clydebank had made a goalkeeping signing and ' the man in black ' was on his way to Kilbowie.

In season 1967/68 Sandy McLachlan made only one appearance, a 2-0 league win over Cowdenbeath on 16 September 1967. Sandy was transferred back to Stranraer.


Debut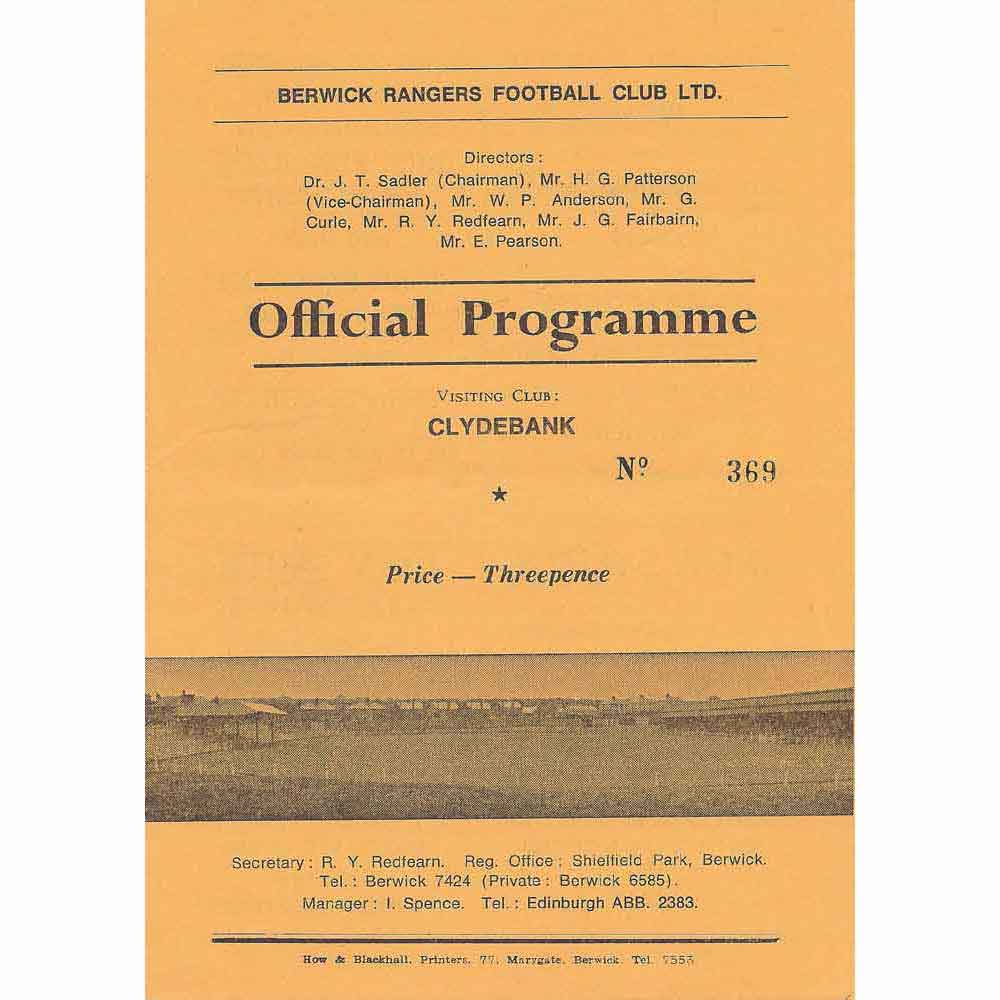 October 15th, 1966
Berwick Rangers 1 - 1 Clydebank
League (Division 2)
Timeline
---
First Team Debut

Berwick Rangers 1 - 1 Clydebank
League (Division 2)

Disillusionment for Berwick and near triumph for Clydebank. Britain's only team, up to Saturday, without a point. They finished so strongly they might well have collected a brace. Bankies equalising g

---

Last Appearance

Clydebank 2 - 0 Cowdenbeath
League (Division 2)

This was Bankies first win in the league and was well deserved but neither team produced anything like their best football.Cowdenbeath were one of the top teams in the second division last sea

---

Left the Club


Sandy was transferred to Stranraer

---
Player Gallery
Sorry, there are no cards or stickers available for this player.
---
Magazine Articles
Sorry, there are no magazine articles available for this player.