Playing History
| Season | Division | | | G2G | | | Win % | Draw % | Loss % |
| --- | --- | --- | --- | --- | --- | --- | --- | --- | --- |
| 2011-12 | Super Premier Division | - | - | - | - | - | - | - | - |
| 2010-11 | Super League Division One | 14 (7) | 0 | - | 0 | 1 | 47.6% | 23.8% | 28.6% |
| Totals: | | 14 (7) | 0 | | | | | | |
Apps = First Team Appearances (Sub Appearances) | Gls = Goals
Cln = Clean Sheets | CtGR = Clean Sheets to Games Ratio | W/D/L - Games won, drawn or lost as percentage of games played in
Yel = Yellow Cards/Cautions | Red = Red Cards/Dismissals
List of Goals Scored
None
List of Games Played (click to expand)
| | | | | | | |
| --- | --- | --- | --- | --- | --- | --- |
| May 7th, 2011 | 07/05/11 | League | Super Division One | vs. Bellshill Athletic (A) | 3 - 1 | |
| May 4th, 2011 | 04/05/11 | League | Super Division One | vs. Hurlford United (A) | 3 - 1 | |
| May 2nd, 2011 | 02/05/11 | Central League Cup | Quarter Final | vs. Shotts Bon Acc (A) | 0 - 3 | |
| Apr 23rd, 2011 | 23/04/11 | League | Super Division One | vs. Vale of Clyde (H) | 1 - 0 | (sub) |
| Apr 20th, 2011 | 20/04/11 | Central League Cup | 3rd Round | vs. Ashfield (A) | 4 - 0 | |
| Apr 9th, 2011 | 09/04/11 | League | Super Division One | vs. Kilwinning Rgrs (H) | 3 - 0 | (sub) |
| Apr 2nd, 2011 | 02/04/11 | League | Super Division One | vs. East Kilbride Th (H) | 1 - 2 | |
| Mar 26th, 2011 | 26/03/11 | Central League Cup | 2nd Round | vs. Yoker Athletic (H) | 1 - 1 | |
| Feb 19th, 2011 | 19/02/11 | League | Super Division One | vs. Girvan (H) | 2 - 0 | (sub) |
| Feb 5th, 2011 | 05/02/11 | League | Super Division One | vs. Hurlford United (H) | 2 - 3 | |
| Nov 20th, 2010 | 20/11/10 | League | Super Division One | vs. Cumbernauld Un (A) | 3 - 3 | |
| Nov 13th, 2010 | 13/11/10 | League | Super Division One | vs. Annbank United (H) | 1 - 0 | |
| Nov 6th, 2010 | 06/11/10 | West of Scotland Cup | 1st Round | vs. East Kilbride Th (H) | 1 - 1 | |
| Oct 30th, 2010 | 30/10/10 | Scottish Junior Cup | 2nd Round | vs. Linlithgow Rose (A) | 0 - 1 | |
| Oct 23rd, 2010 | 23/10/10 | League | Super Division One | vs. Kilwinning Rgrs (A) | 2 - 2 | |
| Oct 16th, 2010 | 16/10/10 | League | Super Division One | vs. East Kilbride Th (A) | 1 - 2 | (sub) |
| Oct 9th, 2010 | 09/10/10 | League | Super Division One | vs. Vale of Clyde (A) | 1 - 1 | (sub) |
| Oct 2nd, 2010 | 02/10/10 | League | Super Division One | vs. Whitletts Victoria (H) | 2 - 0 | (sub) |
| Aug 18th, 2010 | 18/08/10 | Sectional League Cup | | vs. Ashfield (H) | 1 - 2 | (sub) |
| Aug 11th, 2010 | 11/08/10 | Sectional League Cup | | vs. Glas Perthshire (H) | 2 - 1 | |
| Aug 7th, 2010 | 07/08/10 | Sectional League Cup | | vs. Maryhill (A) | 3 - 1 | |
Biography
There is no bio for this player yet.


Debut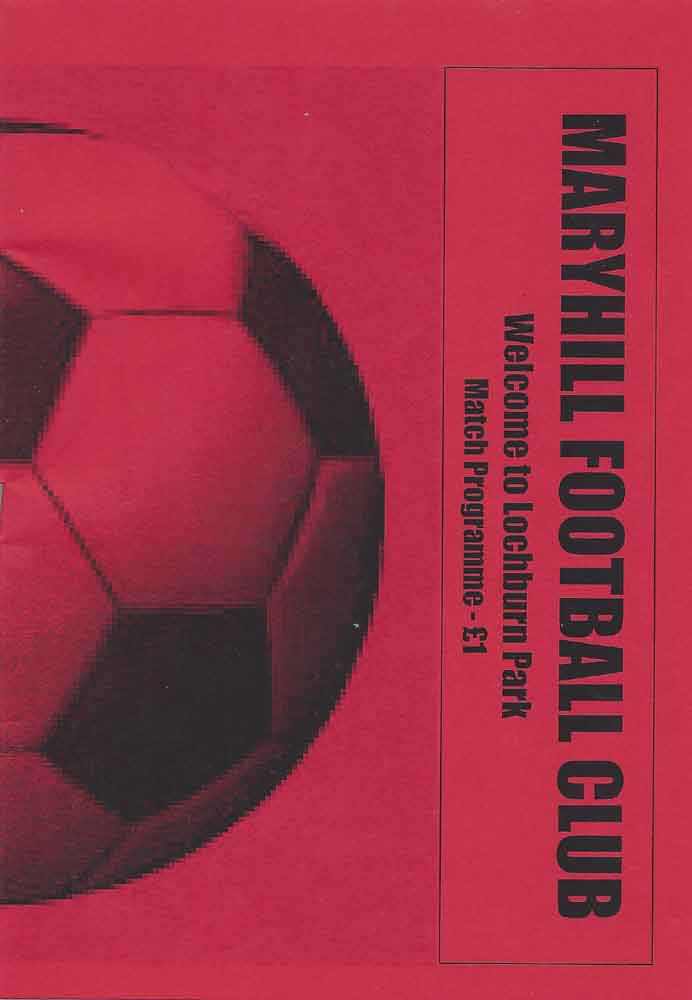 August 7th, 2010
Maryhill 1 - 3 Clydebank
Sectional League Cup
Timeline
Clydebank kicked off the competitive season with a short journey to Maryhill in the Sectional League Cup this afternoon, and did not disappoint their fans as they picked up all three points in a comfortable 3-1 victory. This was the Bankies 6th consecutive victory over the Hill, who didn't help themselves by ending the match with only 9 men on the park.

There were jubilant scenes at Bellshill's West End Park as the Bankies secured promotion to the Premier League in convincing fashion. Goals on either side of the interval by MacAdam and McComish put the Bankies two up. Veteran Bryan Dingwall pulled one back, but it was short-lived as a Hailstones free kick restored the two-goal advantage. With such an important fixture looming the injury situation wasn't great with Campbell, Murray, McMenamin and Dallas all ruled out. This meant that the youngsters were once more asked to step into the senior player's boots, with Highlands, MacAdam, and McComish all given starting berths.
Collectables (Stickers & Cards)
Sorry, there are no cards or stickers available for this player.
---
Magazine Articles
Sorry, there are no magazine articles available for this player.