Playing History
| Season | Division | | | G2G | | | Win % | Draw % | Loss % |
| --- | --- | --- | --- | --- | --- | --- | --- | --- | --- |
| 1974-75 | Division Two | 11 | 2 | 0.18 | 1 | 0 | 27.3% | 18.2% | 54.5% |
| 1973-74 | Division Two | 13 | 8 | 0.62 | 0 | 0 | 38.5% | 23.1% | 38.5% |
| Totals: | | 24 (0) | 10 | | | | | | |
Apps = First Team Appearances (Sub Appearances) | Gls = Goals
GtGR = Goals to Games Ratio | W/D/L - Games won, drawn or lost as percentage of games played in
Yel = Yellow Cards/Cautions | Red = Red Cards/Dismissals
List of Goals Scored (click to expand)
| | | | | | | |
| --- | --- | --- | --- | --- | --- | --- |
| Aug 24th, 1974 | 24/08/74 | League Cup | Group 7 | vs. Stirling Albion (A) | 2 - 5 | (52') |
| Aug 14th, 1974 | 14/08/74 | League Cup | Group 7 | vs. St Mirren (H) | 2 - 0 | (80') |
| Apr 20th, 1974 | 20/04/74 | League | Division 2 | vs. Queen of South (A) | 1 - 0 | (13') |
| Apr 13th, 1974 | 13/04/74 | League | Division 2 | vs. St Mirren (H) | 1 - 1 | (50') |
| Apr 6th, 1974 | 06/04/74 | League | Division 2 | vs. Cowdenbeath (A) | 2 - 0 | (28') |
| Apr 3rd, 1974 | 03/04/74 | League | Division 2 | vs. Montrose (A) | 3 - 1 | (63') |
| Apr 3rd, 1974 | 03/04/74 | League | Division 2 | vs. Montrose (A) | 3 - 1 | (75') |
| Mar 30th, 1974 | 30/03/74 | League | Division 2 | vs. Berwick Rangers (H) | 1 - 2 | (55') |
| Mar 9th, 1974 | 09/03/74 | League | Division 2 | vs. Montrose (H) | 3 - 0 | (9') |
| Mar 9th, 1974 | 09/03/74 | League | Division 2 | vs. Montrose (H) | 3 - 0 | (88') |
List of Games Played (click to expand)
| | | | | | | |
| --- | --- | --- | --- | --- | --- | --- |
| Sep 28th, 1974 | 28/09/74 | League | Division 2 | vs. Forfar Ath (H) | 2 - 2 | |
| Sep 25th, 1974 | 25/09/74 | League | Division 2 | vs. Stranraer (A) | 1 - 2 | |
| Sep 18th, 1974 | 18/09/74 | League | Division 2 | vs. Stenhousemuir (H) | 1 - 1 | |
| Sep 7th, 1974 | 07/09/74 | League | Division 2 | vs. Meadowbank Th (H) | 3 - 0 | |
| Sep 4th, 1974 | 04/09/74 | League | Division 2 | vs. Stranraer (H) | 0 - 3 | |
| Aug 28th, 1974 | 28/08/74 | League Cup | Group 7 | vs. Airdrie (H) | 1 - 2 | |
| Aug 24th, 1974 | 24/08/74 | League Cup | Group 7 | vs. Stirling Albion (A) | 2 - 5 | |
| Aug 21st, 1974 | 21/08/74 | League Cup | Group 7 | vs. St Mirren (A) | 0 - 1 | |
| Aug 17th, 1974 | 17/08/74 | League Cup | Group 7 | vs. Stirling Albion (H) | 3 - 1 | |
| Aug 14th, 1974 | 14/08/74 | League Cup | Group 7 | vs. St Mirren (H) | 2 - 0 | |
| Aug 10th, 1974 | 10/08/74 | League Cup | Group 7 | vs. Airdrie (A) | 0 - 4 | |
| May 1st, 1974 | 01/05/74 | League | Division 2 | vs. Raith Rovers (A) | 2 - 2 | |
| Apr 24th, 1974 | 24/04/74 | League | Division 2 | vs. Cowdenbeath (H) | 2 - 2 | |
| Apr 20th, 1974 | 20/04/74 | League | Division 2 | vs. Queen of South (A) | 1 - 0 | |
| Apr 17th, 1974 | 17/04/74 | League | Division 2 | vs. Queen of South (H) | 0 - 1 | |
| Apr 13th, 1974 | 13/04/74 | League | Division 2 | vs. St Mirren (H) | 1 - 1 | |
| Apr 9th, 1974 | 09/04/74 | League | Division 2 | vs. Stirling Albion (A) | 0 - 3 | |
| Apr 6th, 1974 | 06/04/74 | League | Division 2 | vs. Cowdenbeath (A) | 2 - 0 | |
| Apr 3rd, 1974 | 03/04/74 | League | Division 2 | vs. Montrose (A) | 3 - 1 | |
| Mar 30th, 1974 | 30/03/74 | League | Division 2 | vs. Berwick Rangers (H) | 1 - 2 | |
| Mar 27th, 1974 | 27/03/74 | League | Division 2 | vs. St Mirren (A) | 0 - 2 | |
| Mar 23rd, 1974 | 23/03/74 | League | Division 2 | vs. Queen's Park (H) | 2 - 0 | |
| Mar 9th, 1974 | 09/03/74 | League | Division 2 | vs. Montrose (H) | 3 - 0 | |
| Mar 3rd, 1974 | 03/03/74 | League | Division 2 | vs. Hamilton Accies (A) | 0 - 3 | |
Biography
Joe was in the veteran stage of his career when he arrived at Kilbowie Park at the age of 31 from Montrose. He joined the club in a high profile move that saw Joe, Phil McGovern and John Gilmour sign for a combined fee of £10,000 on the same day.

Joe had a good career with Stirling Albion, East Fife and Dunfermline playing several seasons in the top division, and was invariably involved with promotion chasing clubs when he did play in the second tier.

This was an ambitious move by the Bankies and the capture of Joe seemed to pay dividends at first. He played in 13 games towards the end of the 1973-74 season following his signing netting on 8 occasions. He seemed to take particular pleasure in scoring against his previous club Montrose where he scored two doubles.

Hopes were high within the club for the following term, however the season got off to a dreadful start and by October the Bankies were sixth from bottom of the table. Joe and John Gilmour were particular targets for the boo boys due to the level of expectation placed upon them. Joe had only scored two goals as he struggled to find his earlier form.

In an unexpected move the Steedman brothers decided to take more of a back seat citing business pressures, and promoted coach Bill Munro to the managers position. He immediately dropped both players from the side, and within a couple of weeks Joe was transferred to Cowdenbeath, thus ending his eight month spell at Kilbowie.

Joe had another spell at Stirling Albion after he left Cowdenbeath. Overall, he had a very good career, but his short spell at the Bankies didn't work out for him.


Debut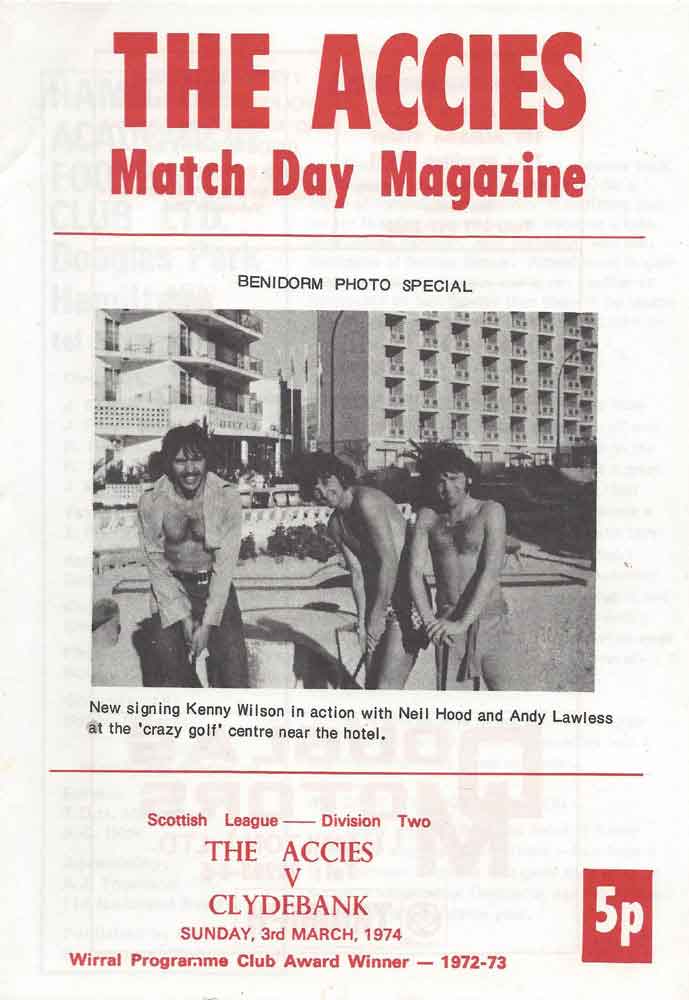 March 3rd, 1974
Hamilton Academical 3 - 0 Clydebank FC
League (Division 2)
Timeline
---
Date of Birth


Joe was born on this date

---

Signed For Clydebank FC


Joe was signed from Montrose

---

First Goal

Clydebank FC 3 - 0 Montrose
League (Division 2)

Joe Hughes celebrated his home debut for Clydebank with two fine opportunist goals against his old club, Montrose.Montrose attacked from the start and when Lowe forced his way through, Abel ki

---

Last Goal

Stirling Albion 5 - 2 Clydebank FC
League Cup (Group 7)

The Bankies travelled to Stirling last Saturday knowing that a win was imperative if they were to maintain any interest in this year's League Cup. Ward White replaced Andy Roxburgh in an otherwise unc

---

Last Appearance

Clydebank FC 2 - 2 Forfar Ath
League (Division 2)

Forfar took to the field 15 minutes before the kick-off loosening up with their new manager Gerry Kerr supervisingTaylor and Grimmond combined well in the opening minutes and Gallacher had to

---

Left the Club


Joe was transferred to Cowdenbeath

---
Player Gallery
Sorry, there are no cards or stickers available for this player.
---
Magazine Articles
Sorry, there are no magazine articles available for this player.