Playing History
| Season | Division | | | G2G | | | Win % | Draw % | Loss % |
| --- | --- | --- | --- | --- | --- | --- | --- | --- | --- |
| 1972-73 | Division Two | 12 (4) | 2 | 0.13 | 0 | 0 | 18.8% | 12.5% | 68.8% |
| 1971-72 | Division Two | 17 | 6 | 0.35 | 0 | 0 | 47.1% | 23.5% | 29.4% |
| Totals: | | 29 (4) | 8 | | | | | | |
Apps = First Team Appearances (Sub Appearances) | Gls = Goals
GtGR = Goals to Games Ratio | W/D/L - Games won, drawn or lost as percentage of games played in
Yel = Yellow Cards/Cautions | Red = Red Cards/Dismissals
List of Goals Scored (click to expand)
List of Games Played (click to expand)
| | | | | | | |
| --- | --- | --- | --- | --- | --- | --- |
| Dec 16th, 1972 | 16/12/72 | Scottish Cup | 1st Round | vs. Brechin City (A) | 0 - 0 | |
| Dec 2nd, 1972 | 02/12/72 | League | Division 2 | vs. Stranraer (A) | 0 - 4 | |
| Nov 28th, 1972 | 28/11/72 | Stirlingshire Cup | 1st Round | vs. Falkirk (A) | 3 - 5 | |
| Nov 18th, 1972 | 18/11/72 | League | Division 2 | vs. St Mirren (A) | 0 - 4 | |
| Nov 4th, 1972 | 04/11/72 | League | Division 2 | vs. Alloa Athletic (H) | 2 - 3 | |
| Oct 28th, 1972 | 28/10/72 | League | Division 2 | vs. Albion Rovers (A) | 1 - 4 | (sub) |
| Oct 14th, 1972 | 14/10/72 | League | Division 2 | vs. Montrose (A) | 3 - 1 | (sub) |
| Sep 30th, 1972 | 30/09/72 | League | Division 2 | vs. Cowdenbeath (A) | 0 - 2 | |
| Sep 27th, 1972 | 27/09/72 | League | Division 2 | vs. Brechin City (H) | 2 - 1 | |
| Sep 23rd, 1972 | 23/09/72 | League | Division 2 | vs. Hamilton Accies (A) | 4 - 1 | |
| Sep 20th, 1972 | 20/09/72 | League | Division 2 | vs. Stirling Albion (A) | 0 - 3 | |
| Sep 13th, 1972 | 13/09/72 | League | Division 2 | vs. Stenhousemuir (H) | 1 - 2 | |
| Sep 6th, 1972 | 06/09/72 | League | Division 2 | vs. Brechin City (A) | 1 - 3 | |
| Aug 30th, 1972 | 30/08/72 | League Cup | Group 3 | vs. St Mirren (H) | 3 - 3 | (sub) |
| Aug 26th, 1972 | 26/08/72 | League Cup | Group 3 | vs. Rangers (H) | 0 - 5 | (sub) |
| Aug 12th, 1972 | 12/08/72 | League Cup | Group 3 | vs. Rangers (A) | 0 - 2 | |
| Apr 29th, 1972 | 29/04/72 | League | Division 2 | vs. Stenhousemuir (A) | 1 - 3 | |
| Apr 22nd, 1972 | 22/04/72 | League | Division 2 | vs. Stirling Albion (H) | 0 - 0 | |
| Apr 18th, 1972 | 18/04/72 | League | Division 2 | vs. Queen's Park (A) | 4 - 4 | |
| Apr 15th, 1972 | 15/04/72 | League | Division 2 | vs. Brechin City (A) | 2 - 1 | |
| Apr 11th, 1972 | 11/04/72 | League | Division 2 | vs. Raith Rovers (H) | 3 - 1 | |
| Apr 1st, 1972 | 01/04/72 | League | Division 2 | vs. Stranraer (H) | 3 - 0 | |
| Mar 25th, 1972 | 25/03/72 | League | Division 2 | vs. Hamilton Accies (A) | 1 - 0 | |
| Mar 11th, 1972 | 11/03/72 | League | Division 2 | vs. Forfar Ath (A) | 1 - 2 | |
| Mar 4th, 1972 | 04/03/72 | League | Division 2 | vs. East Stirlingshire (H) | 3 - 4 | |
| Feb 19th, 1972 | 19/02/72 | League | Division 2 | vs. Cowdenbeath (A) | 0 - 0 | |
| Feb 12th, 1972 | 12/02/72 | League | Division 2 | vs. Alloa Athletic (H) | 3 - 1 | |
| Jan 29th, 1972 | 29/01/72 | League | Division 2 | vs. Montrose (A) | 2 - 1 | |
| Jan 22nd, 1972 | 22/01/72 | League | Division 2 | vs. Albion Rovers (H) | 3 - 1 | |
| Jan 15th, 1972 | 15/01/72 | League | Division 2 | vs. Arbroath (A) | 2 - 1 | |
| Jan 8th, 1972 | 08/01/72 | League | Division 2 | vs. Berwick Rangers (H) | 0 - 0 | |
| Jan 3rd, 1972 | 03/01/72 | League | Division 2 | vs. Queen of South (A) | 0 - 2 | |
| Jan 1st, 1972 | 01/01/72 | League | Division 2 | vs. Dumbarton (H) | 2 - 3 | |
Biography
Jim McPaul was once Clydebank's record signing after Jack Steedman paid Stenhousemuir £8000 for his services at the tail end of 1971.

The forward had shown up well in games against the Bankies in previous seasons and this persuaded Mr Steedman to take a huge financial gamble on him. Clydebank were having one of their best seasons since entering the Seniors and the capture of Jim was seen as the catalyst for a real promotion push.

Things started well for Jim netting on his debut against Dumbarton in the New Year Derby. Before January was out he had scored another two goals including the winner at Montrose. However he would only get on the scoresheet three more times by the end of the season for a return of six goals in seventeen games. The Bankies form faltered and they ended up in ninth place in the table.

The following season, Clydebank took a massive step backwards and were struggling at the foot of the table by the time the new year came along. Jim had been having a hard time in a poor Bankies team, and he had netted just two goals all season. He started to lose his place in the team and by the middle of January he requested a move. As things had not worked out as expected this transfer request was granted.

Jim subsequently signed for East Stirlingshire where he fared rather better, before returning to Stenhousemuir. A season at Cowdenbeath saw Jim leave senior football and play for Linlithgow Rose in the Juniors.


Debut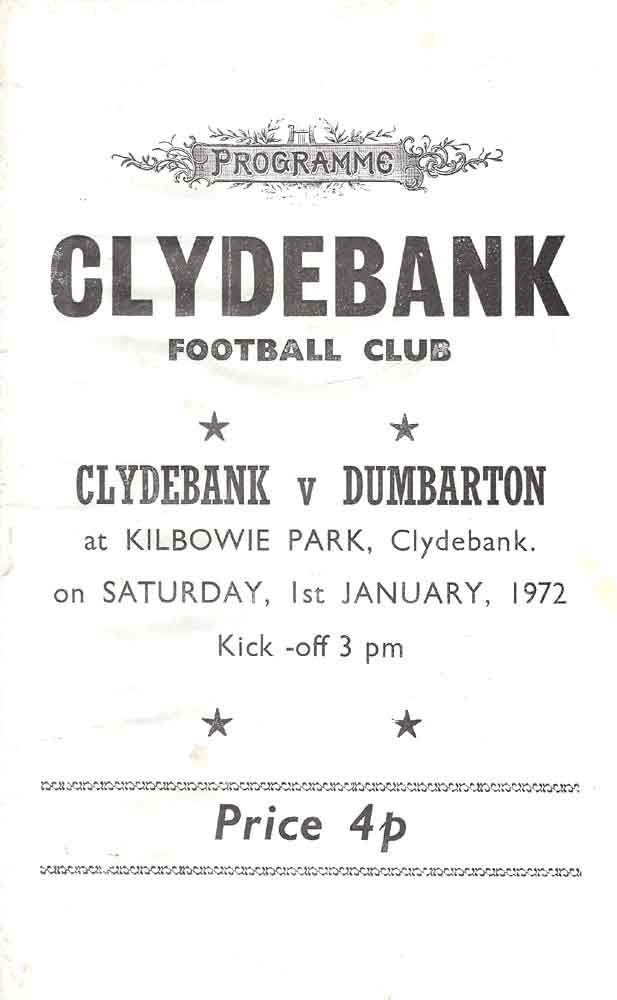 January 1st, 1972
Clydebank FC 2 - 3 Dumbarton
League (Division 2)
Player Gallery
Sorry, there are no cards or stickers available for this player.
---
Magazine Articles
Sorry, there are no magazine articles available for this player.