Playing History
| Season | Division | | | G2G | | | Win % | Draw % | Loss % |
| --- | --- | --- | --- | --- | --- | --- | --- | --- | --- |
| 1969-70 | Division Two | 4 | 0 | - | 0 | 0 | 50.0% | 25.0% | 25.0% |
| 1968-69 | Division Two | 42 | 12 | 0.29 | 1 | 0 | 16.7% | 35.7% | 47.6% |
| Totals: | | 46 (0) | 12 | | | | | | |
Apps = First Team Appearances (Sub Appearances) | Gls = Goals
Cln = Clean Sheets | CtGR = Clean Sheets to Games Ratio | W/D/L - Games won, drawn or lost as percentage of games played in
Yel = Yellow Cards/Cautions | Red = Red Cards/Dismissals
List of Goals Scored (click to expand)
| | | | | | | |
| --- | --- | --- | --- | --- | --- | --- |
| Mar 8th, 1969 | 08/03/69 | League | Division 2 | vs. Motherwell (A) | 1 - 2 | (30') |
| Nov 2nd, 1968 | 02/11/68 | League | Division 2 | vs. Stranraer (H) | 2 - 2 | (56') |
| Nov 2nd, 1968 | 02/11/68 | League | Division 2 | vs. Stranraer (H) | 2 - 2 | (51') |
| Oct 26th, 1968 | 26/10/68 | League | Division 2 | vs. Montrose (A) | 3 - 5 | (89') |
| Sep 28th, 1968 | 28/09/68 | League | Division 2 | vs. Queen of South (A) | 1 - 1 | (4') |
| Sep 21st, 1968 | 21/09/68 | League | Division 2 | vs. Berwick Rangers (H) | 1 - 1 | (5') p |
| Sep 14th, 1968 | 14/09/68 | League | Division 2 | vs. Queen's Park (A) | 4 - 2 | (23') |
| Sep 14th, 1968 | 14/09/68 | League | Division 2 | vs. Queen's Park (A) | 4 - 2 | (82') |
| Sep 11th, 1968 | 11/09/68 | League | Division 2 | vs. Cowdenbeath (A) | 3 - 3 | (50') |
| Aug 31st, 1968 | 31/08/68 | League Cup | Group 6 | vs. Queen of South (H) | 1 - 1 | (55') |
| Aug 21st, 1968 | 21/08/68 | League | Division 2 | vs. Brechin City (A) | 1 - 3 | (26') |
| Aug 17th, 1968 | 17/08/68 | League Cup | Group 6 | vs. Queen of South (A) | 2 - 1 | (16') p |
List of Games Played (click to expand)
| | | | | | | |
| --- | --- | --- | --- | --- | --- | --- |
| Aug 20th, 1969 | 20/08/69 | League Cup | Group 7 | vs. Stranraer (H) | 3 - 2 | |
| Aug 16th, 1969 | 16/08/69 | League Cup | Group 7 | vs. Cowdenbeath (H) | 3 - 1 | |
| Aug 13th, 1969 | 13/08/69 | League Cup | Group 7 | vs. Stranraer (A) | 1 - 1 | |
| Aug 9th, 1969 | 09/08/69 | League Cup | Group 7 | vs. Dumbarton (H) | 1 - 3 | |
| Apr 28th, 1969 | 28/04/69 | League | Division 2 | vs. Ayr Utd (H) | 0 - 1 | |
| Apr 26th, 1969 | 26/04/69 | League | Division 2 | vs. Berwick Rangers (A) | 0 - 5 | |
| Apr 19th, 1969 | 19/04/69 | League | Division 2 | vs. Stirling Albion (H) | 2 - 2 | |
| Apr 14th, 1969 | 14/04/69 | League | Division 2 | vs. East Stirlingshire (A) | 0 - 1 | |
| Apr 12th, 1969 | 12/04/69 | League | Division 2 | vs. Forfar Ath (A) | 0 - 1 | |
| Apr 5th, 1969 | 05/04/69 | League | Division 2 | vs. Ayr Utd (A) | 0 - 0 | |
| Mar 29th, 1969 | 29/03/69 | League | Division 2 | vs. Stenhousemuir (H) | 2 - 2 | |
| Mar 22nd, 1969 | 22/03/69 | League | Division 2 | vs. Albion Rovers (H) | 2 - 0 | |
| Mar 15th, 1969 | 15/03/69 | League | Division 2 | vs. East Fife (A) | 1 - 1 | |
| Mar 8th, 1969 | 08/03/69 | League | Division 2 | vs. Motherwell (A) | 1 - 2 | |
| Feb 26th, 1969 | 26/02/69 | League | Division 2 | vs. Hamilton Accies (H) | 5 - 0 | |
| Feb 15th, 1969 | 15/02/69 | League | Division 2 | vs. Montrose (H) | 5 - 0 | |
| Jan 18th, 1969 | 18/01/69 | League | Division 2 | vs. Alloa Athletic (A) | 3 - 3 | |
| Jan 11th, 1969 | 11/01/69 | League | Division 2 | vs. Queen of South (H) | 3 - 3 | |
| Jan 4th, 1969 | 04/01/69 | League | Division 2 | vs. Forfar Ath (H) | 3 - 0 | |
| Jan 2nd, 1969 | 02/01/69 | League | Division 2 | vs. Queen's Park (H) | 1 - 3 | |
| Jan 1st, 1969 | 01/01/69 | League | Division 2 | vs. Dumbarton (A) | 3 - 3 | |
| Dec 28th, 1968 | 28/12/68 | League | Division 2 | vs. Stirling Albion (A) | 0 - 2 | |
| Dec 14th, 1968 | 14/12/68 | Scottish Cup | 1st Preliminary Round | vs. Cowdenbeath (A) | 0 - 1 | |
| Dec 7th, 1968 | 07/12/68 | League | Division 2 | vs. Stenhousemuir (A) | 0 - 0 | |
| Nov 30th, 1968 | 30/11/68 | League | Division 2 | vs. Albion Rovers (A) | 1 - 3 | |
| Nov 23rd, 1968 | 23/11/68 | League | Division 2 | vs. East Fife (H) | 1 - 4 | |
| Nov 16th, 1968 | 16/11/68 | League | Division 2 | vs. Motherwell (H) | 0 - 4 | |
| Nov 2nd, 1968 | 02/11/68 | League | Division 2 | vs. Stranraer (H) | 2 - 2 | |
| Oct 26th, 1968 | 26/10/68 | League | Division 2 | vs. Montrose (A) | 3 - 5 | |
| Oct 19th, 1968 | 19/10/68 | League | Division 2 | vs. East Stirlingshire (H) | 0 - 4 | |
| Oct 12th, 1968 | 12/10/68 | League | Division 2 | vs. Hamilton Accies (A) | 2 - 1 | |
| Oct 5th, 1968 | 05/10/68 | League | Division 2 | vs. Alloa Athletic (H) | 0 - 2 | |
| Sep 28th, 1968 | 28/09/68 | League | Division 2 | vs. Queen of South (A) | 1 - 1 | |
| Sep 21st, 1968 | 21/09/68 | League | Division 2 | vs. Berwick Rangers (H) | 1 - 1 | |
| Sep 18th, 1968 | 18/09/68 | League | Division 2 | vs. Cowdenbeath (H) | 1 - 1 | |
| Sep 14th, 1968 | 14/09/68 | League | Division 2 | vs. Queen's Park (A) | 4 - 2 | |
| Sep 11th, 1968 | 11/09/68 | League | Division 2 | vs. Cowdenbeath (A) | 3 - 3 | |
| Sep 7th, 1968 | 07/09/68 | League | Division 2 | vs. Dumbarton (H) | 0 - 1 | |
| Sep 4th, 1968 | 04/09/68 | League | Division 2 | vs. Brechin City (H) | 0 - 0 | |
| Aug 31st, 1968 | 31/08/68 | League Cup | Group 6 | vs. Queen of South (H) | 1 - 1 | |
| Aug 28th, 1968 | 28/08/68 | League Cup | Group 6 | vs. Berwick Rangers (A) | 0 - 3 | |
| Aug 24th, 1968 | 24/08/68 | League Cup | Group 6 | vs. East Fife (H) | 1 - 3 | |
| Aug 21st, 1968 | 21/08/68 | League | Division 2 | vs. Brechin City (A) | 1 - 3 | |
| Aug 17th, 1968 | 17/08/68 | League Cup | Group 6 | vs. Queen of South (A) | 2 - 1 | |
| Aug 14th, 1968 | 14/08/68 | League Cup | Group 6 | vs. Berwick Rangers (H) | 2 - 4 | |
| Aug 10th, 1968 | 10/08/68 | League Cup | Group 6 | vs. East Fife (A) | 0 - 2 | |
Biography
Ian Hawkshaw joined the conveyor belt that stretched from Somerset Park to Kilbowie during the early years of Clydebanks' existence in the late 1960's. Johnny Wark, Arthur Paterson and Eddie Moore had all arrived from Ayr United with Paterson and Moore teammates of Hawkshaw when Ayr United won the Second Division title in 1965-66. Ian Hawkshaw had joined Ayr United from St.Johnstone and scored 39 goals in 91 games for Ayr United. Mr Steedman had lost top goal scorer Tony Moy and was keen to let everyone know that at £3,000 Ian Hawkshaw was a record signing for Clydebank. However the big money signing was to hang around for just over a year before heading for the exit.

Ian Hawkshaw made his debut in a pre-season friendly in a 2-0 win over Carlisle at Dalbeattie on 1 August 1968, a game which is often erroneously reported as a 1-0 win for Carlisle! Ian was a small well built man who had started off his career as a right winger. He had obviously been well coached was comfortable on the ball and was a consistent goal scorer, not to the Tony Moy level but he knew how to score. The trouble was trying to get the right fix in attack, and the mix just wasn't right. Gerry O' Brien, Ian Hawkshaw and Eddie Rutherford were right wingers, John McGunnigle and Jimmy Caskie were left wingers and sometimes they were all playing. Alan Munro was starting out in his first team career and Eddie Moore was downing tools.

Season 1968-69 was a struggle for Clydebank, they only recorded six league victories in thirty six matches with fifteen draws and the same number of draws. Ian Hawkshaw managed to score 12 goals in his season at Clydebank, he played the first four games in the League Cup in season 1969-70, starting as right wing with Gerry O'Brien now wearing the number 10 jersey and Jimmy Caskie in the number 11 jersey. All the ex Ayr players had left and Ian Hawkshaw was not seen again after a 3-2 win over Stranraer in the League Cup group match on 20 August 1969.

Ian Hawkshaw passed away in 2014. R.I.P.


Debut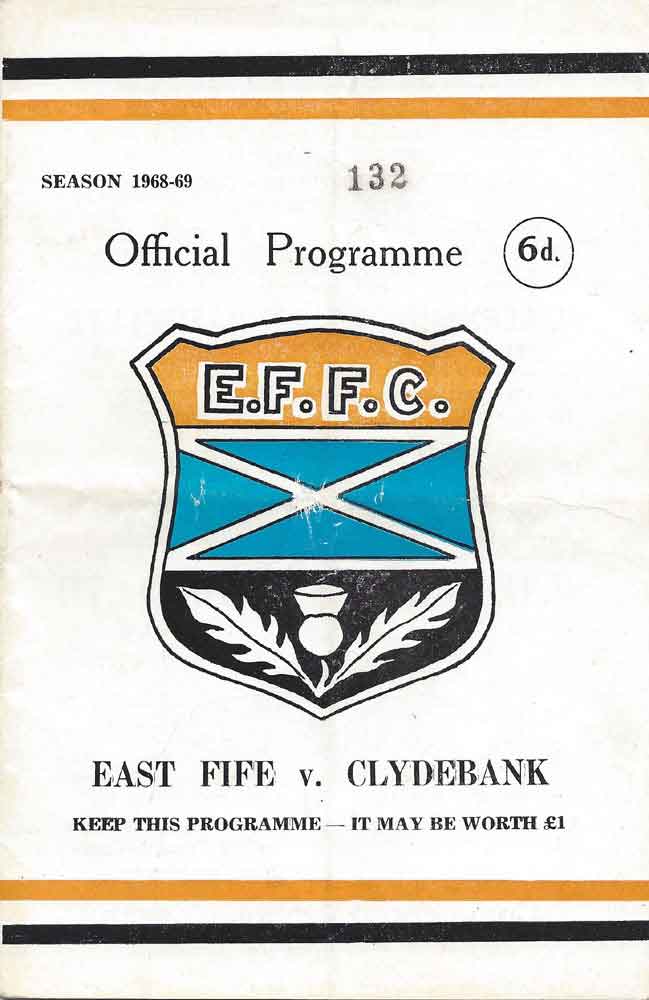 August 10th, 1968
East Fife 2 - 0 Clydebank FC
League Cup (Group 6)
Player Gallery
Sorry, there are no cards or stickers available for this player.
---
Magazine Articles
Sorry, there are no magazine articles available for this player.