Playing History
| Season | Division | | | G2G | | | Win % | Draw % | Loss % |
| --- | --- | --- | --- | --- | --- | --- | --- | --- | --- |
| 2009-10 | Super League Division One | 32 (5) | 2 | 0.05 | 4 | 0 | 59.5% | 18.9% | 21.6% |
| Totals: | | 32 (5) | 2 | | | | | | |
Apps = First Team Appearances (Sub Appearances) | Gls = Goals
Cln = Clean Sheets | CtGR = Clean Sheets to Games Ratio | W/D/L - Games won, drawn or lost as percentage of games played in
Yel = Yellow Cards/Cautions | Red = Red Cards/Dismissals
List of Goals Scored (click to expand)
List of Games Played (click to expand)
| | | | | | | |
| --- | --- | --- | --- | --- | --- | --- |
| Jun 11th, 2010 | 11/06/10 | League | Super Premier Division Play Off 2nd Leg | vs. Lanark United (H) | 2 - 1 | |
| Jun 5th, 2010 | 05/06/10 | League | Super Division One | vs. Whitletts Victoria (A) | 1 - 0 | |
| Jun 3rd, 2010 | 03/06/10 | Evening Times Cup | Preliminary Round | vs. Arthurlie (H) | 1 - 2 | |
| May 26th, 2010 | 26/05/10 | Central League Cup | Quarter Final | vs. Rutherglen Glen (H) | 2 - 0 | (sub) |
| May 24th, 2010 | 24/05/10 | League | Super Division One | vs. Dalry Thistle (A) | 1 - 2 | (sub) |
| May 19th, 2010 | 19/05/10 | League | Super Division One | vs. Neilston Juniors (H) | 1 - 1 | |
| May 15th, 2010 | 15/05/10 | League | Super Division One | vs. Girvan (A) | 1 - 1 | (sub) |
| May 12th, 2010 | 12/05/10 | League | Super Division One | vs. East Kilbride Th (H) | 1 - 0 | (sub) |
| May 10th, 2010 | 10/05/10 | League | Super Division One | vs. Kilsyth Rangers (H) | 2 - 2 | |
| May 8th, 2010 | 08/05/10 | League | Super Division One | vs. Cumnock (A) | 0 - 0 | (sub) |
| May 5th, 2010 | 05/05/10 | League | Super Division One | vs. Renfrew (H) | 1 - 0 | |
| May 3rd, 2010 | 03/05/10 | Central League Cup | 3rd Round | vs. St Anthonys (H) | 1 - 0 | |
| May 1st, 2010 | 01/05/10 | League | Super Division One | vs. Annbank United (A) | 3 - 2 | |
| Apr 26th, 2010 | 26/04/10 | League | Super Division One | vs. Rutherglen Glen (H) | 3 - 4 | |
| Apr 21st, 2010 | 21/04/10 | Central League Cup | 2nd Round | vs. Arthurlie (A) | 2 - 0 | |
| Apr 10th, 2010 | 10/04/10 | Scottish Junior Cup | Semi Final 1st Leg | vs. Largs Thistle (A) | 0 - 1 | |
| Apr 3rd, 2010 | 03/04/10 | League | Super Division One | vs. Maybole (H) | 2 - 1 | |
| Mar 20th, 2010 | 20/03/10 | Scottish Junior Cup | Quarter Final | vs. Hill of Beath (H) | 2 - 1 | |
| Mar 13th, 2010 | 13/03/10 | League | Super Division One | vs. Glenafton Ath (A) | 0 - 0 | |
| Mar 6th, 2010 | 06/03/10 | West of Scotland Cup | 2nd Round | vs. Vale of Clyde (A) | 0 - 1 | |
| Feb 13th, 2010 | 13/02/10 | Scottish Junior Cup | 5th Round | vs. Auchinleck Talb (A) | 1 - 0 | |
| Feb 6th, 2010 | 06/02/10 | League | Super Division One | vs. Girvan (H) | 3 - 3 | |
| Jan 23rd, 2010 | 23/01/10 | Scottish Junior Cup | 4th Round | vs. Port Glasgow (H) | 2 - 1 | |
| Dec 12th, 2009 | 12/12/09 | League | Super Division One | vs. Dalry Thistle (H) | 3 - 1 | |
| Dec 5th, 2009 | 05/12/09 | League | Super Division One | vs. Ashfield (A) | 1 - 0 | |
| Nov 28th, 2009 | 28/11/09 | Scottish Junior Cup | 3rd Round | vs. Craigmark Burnt (A) | 1 - 0 | |
| Oct 31st, 2009 | 31/10/09 | Scottish Junior Cup | 2nd Round | vs. Haddington Ath (H) | 1 - 0 | |
| Oct 24th, 2009 | 24/10/09 | League | Super Division One | vs. Glenafton Ath (H) | 2 - 1 | |
| Oct 17th, 2009 | 17/10/09 | West of Scotland Cup | 1st Round | vs. Forth Wanderers (H) | 3 - 1 | |
| Oct 10th, 2009 | 10/10/09 | League | Super Division One | vs. Cumnock (H) | 1 - 3 | |
| Sep 19th, 2009 | 19/09/09 | League | Super Division One | vs. East Kilbride Th (A) | 0 - 2 | |
| Sep 12th, 2009 | 12/09/09 | League | Super Division One | vs. Ashfield (H) | 0 - 1 | |
| Aug 29th, 2009 | 29/08/09 | League | Super Division One | vs. Neilston Juniors (A) | 3 - 1 | |
| Aug 22nd, 2009 | 22/08/09 | League | Super Division One | vs. Whitletts Victoria (H) | 3 - 1 | |
| Aug 8th, 2009 | 08/08/09 | Sectional League Cup | | vs. Yoker Athletic (H) | 1 - 1 | |
| Aug 5th, 2009 | 05/08/09 | Sectional League Cup | | vs. Glas Perthshire (A) | 4 - 0 | |
| Jul 29th, 2009 | 29/07/09 | Sectional League Cup | | vs. Maryhill (H) | 1 - 0 | |
Biography
There is no bio for this player yet.


Debut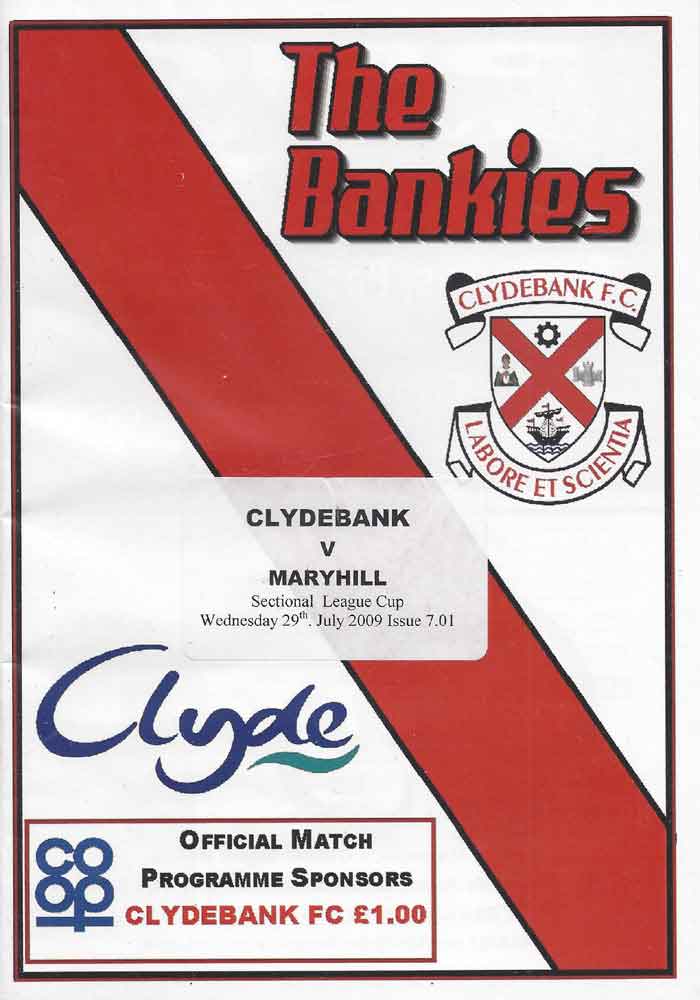 July 29th, 2009
Clydebank FC 1 - 0 Maryhill
Sectional League Cup
Timeline
---
Date of Birth


John was born on this date

---

League Debut

Clydebank FC 3 - 1 Whitletts Victoria
League (Super Division One)

Clydebank got their league season off to a perfect start this afternoon by putting Super League new boys Victoria Whitletts to the sword with a comprehensive 3-1 victory.Right from the first w

---

Last Goal

Arthurlie 0 - 2 Clydebank FC
Central League Cup (2nd Round)

If you had to think of a worse place to visit to get over a semi-final exit, then Dunterlie Park would be hard to beat. Clydebank's disappointing exit to Largs Thistle in the Scottish Cup meant that t

---
Player Gallery
Sorry, there are no cards or stickers available for this player.
---
Magazine Articles
Sorry, there are no magazine articles available for this player.