Playing History
| Season | Division | | | G2G | | | Win % | Draw % | Loss % |
| --- | --- | --- | --- | --- | --- | --- | --- | --- | --- |
| 2014-15 | Super Premier Division | 8 | 0 | - | 0 | 0 | 37.5% | 12.5% | 50.0% |
| 2013-14 | Super Premier Division | 10 (2) | 0 | - | 0 | 0 | 50.0% | 25.0% | 25.0% |
| 2011-12 | Super Premier Division | - | - | - | - | - | - | - | - |
| 2010-11 | Super League Division One | 14 | 0 | - | 0 | 0 | 42.9% | 28.6% | 28.6% |
| 2009-10 | Super League Division One | 8 | 0 | - | 1 | 0 | 50.0% | 25.0% | 25.0% |
| Totals: | | 40 (2) | 0 | | | | | | |
Apps = First Team Appearances (Sub Appearances) | Gls = Goals
Cln = Clean Sheets | CtGR = Clean Sheets to Games Ratio | W/D/L - Games won, drawn or lost as percentage of games played in
Yel = Yellow Cards/Cautions | Red = Red Cards/Dismissals
List of Goals Scored
None
List of Games Played (click to expand)
| | | | | | | |
| --- | --- | --- | --- | --- | --- | --- |
| Apr 18th, 2015 | 18/04/15 | League | Super Premier Division | vs. Kilbirnie Lade (A) | 0 - 6 | |
| Apr 15th, 2015 | 15/04/15 | Central League Cup | 1st Round | vs. Rutherglen Glen (A) | 2 - 1 | |
| Apr 11th, 2015 | 11/04/15 | League | Super Premier Division | vs. Troon (H) | 0 - 3 | |
| Dec 6th, 2014 | 06/12/14 | League | Super Premier Division | vs. Glenafton Ath (A) | 1 - 4 | |
| Nov 29th, 2014 | 29/11/14 | League | Super Premier Division | vs. Hurlford United (H) | 1 - 2 | |
| Nov 22nd, 2014 | 22/11/14 | Scottish Junior Cup | 3rd Round | vs. West Calder Utd (A) | 3 - 0 | |
| Nov 1st, 2014 | 01/11/14 | League | Super Premier Division | vs. Troon (A) | 1 - 1 | |
| Oct 25th, 2014 | 25/10/14 | Scottish Junior Cup | 2nd Round | vs. Lossiemouth Utd (H) | 7 - 0 | |
| May 17th, 2014 | 17/05/14 | League | Super Premier Division | vs. Glenafton Ath (H) | 1 - 3 | |
| Apr 26th, 2014 | 26/04/14 | League | Super Premier Division | vs. Cumnock (H) | 1 - 2 | |
| Jan 11th, 2014 | 11/01/14 | League | Super Premier Division | vs. Petershill (A) | 1 - 2 | (sub) |
| Nov 16th, 2013 | 16/11/13 | League | Super Premier Division | vs. Largs Thistle (H) | 3 - 2 | |
| Nov 2nd, 2013 | 02/11/13 | West of Scotland Cup | 1st Round | vs. Lugar Boswell T (H) | 3 - 2 | |
| Sep 28th, 2013 | 28/09/13 | League | Super Premier Division | vs. Kilbirnie Lade (A) | 0 - 0 | |
| Sep 22nd, 2013 | 22/09/13 | Sectional League Cup | Final | vs. Pollok (N) | 2 - 0 | |
| Sep 14th, 2013 | 14/09/13 | League | Super Premier Division | vs. Irvine Meadow (H) | 1 - 1 | (sub) |
| Aug 28th, 2013 | 28/08/13 | Sectional League Cup | Semi Final | vs. Petershill (A) | 1 - 1 | |
| Aug 21st, 2013 | 21/08/13 | Sectional League Cup | Quarter Final | vs. Carluke Rovers (H) | 8 - 1 | |
| Aug 14th, 2013 | 14/08/13 | Sectional League Cup | Group 6 | vs. Glas Perthshire (A) | 5 - 2 | |
| Aug 10th, 2013 | 10/08/13 | Sectional League Cup | Group 6 | vs. Ashfield (H) | 8 - 0 | |
| May 2nd, 2011 | 02/05/11 | Central League Cup | Quarter Final | vs. Shotts Bon Acc (A) | 0 - 3 | |
| Apr 16th, 2011 | 16/04/11 | League | Super Division One | vs. Cumbernauld Un (H) | 2 - 2 | |
| Apr 9th, 2011 | 09/04/11 | League | Super Division One | vs. Kilwinning Rgrs (H) | 3 - 0 | |
| Apr 2nd, 2011 | 02/04/11 | League | Super Division One | vs. East Kilbride Th (H) | 1 - 2 | |
| Mar 26th, 2011 | 26/03/11 | Central League Cup | 2nd Round | vs. Yoker Athletic (H) | 1 - 1 | |
| Mar 19th, 2011 | 19/03/11 | League | Super Division One | vs. Renfrew (A) | 2 - 0 | |
| Mar 5th, 2011 | 05/03/11 | League | Super Division One | vs. Whitletts Victoria (A) | 3 - 1 | |
| Feb 19th, 2011 | 19/02/11 | League | Super Division One | vs. Girvan (H) | 2 - 0 | |
| Feb 12th, 2011 | 12/02/11 | League | Super Division One | vs. Glenafton Ath (A) | 3 - 0 | |
| Nov 6th, 2010 | 06/11/10 | West of Scotland Cup | 1st Round | vs. East Kilbride Th (H) | 1 - 1 | |
| Oct 16th, 2010 | 16/10/10 | League | Super Division One | vs. East Kilbride Th (A) | 1 - 2 | |
| Sep 11th, 2010 | 11/09/10 | League | Super Division One | vs. Shotts Bon Acc (A) | 0 - 0 | |
| Aug 18th, 2010 | 18/08/10 | Sectional League Cup | | vs. Ashfield (H) | 1 - 2 | |
| Aug 11th, 2010 | 11/08/10 | Sectional League Cup | | vs. Glas Perthshire (H) | 2 - 1 | |
| Jun 5th, 2010 | 05/06/10 | League | Super Division One | vs. Whitletts Victoria (A) | 1 - 0 | |
| Jun 3rd, 2010 | 03/06/10 | Evening Times Cup | Preliminary Round | vs. Arthurlie (H) | 1 - 2 | |
| May 24th, 2010 | 24/05/10 | League | Super Division One | vs. Dalry Thistle (A) | 1 - 2 | |
| May 19th, 2010 | 19/05/10 | League | Super Division One | vs. Neilston Juniors (H) | 1 - 1 | |
| May 10th, 2010 | 10/05/10 | League | Super Division One | vs. Kilsyth Rangers (H) | 2 - 2 | |
| May 3rd, 2010 | 03/05/10 | Central League Cup | 3rd Round | vs. St Anthonys (H) | 1 - 0 | |
| May 1st, 2010 | 01/05/10 | League | Super Division One | vs. Annbank United (A) | 3 - 2 | |
| Apr 21st, 2010 | 21/04/10 | Central League Cup | 2nd Round | vs. Arthurlie (A) | 2 - 0 | |
Biography
There is no bio for this player yet.


Debut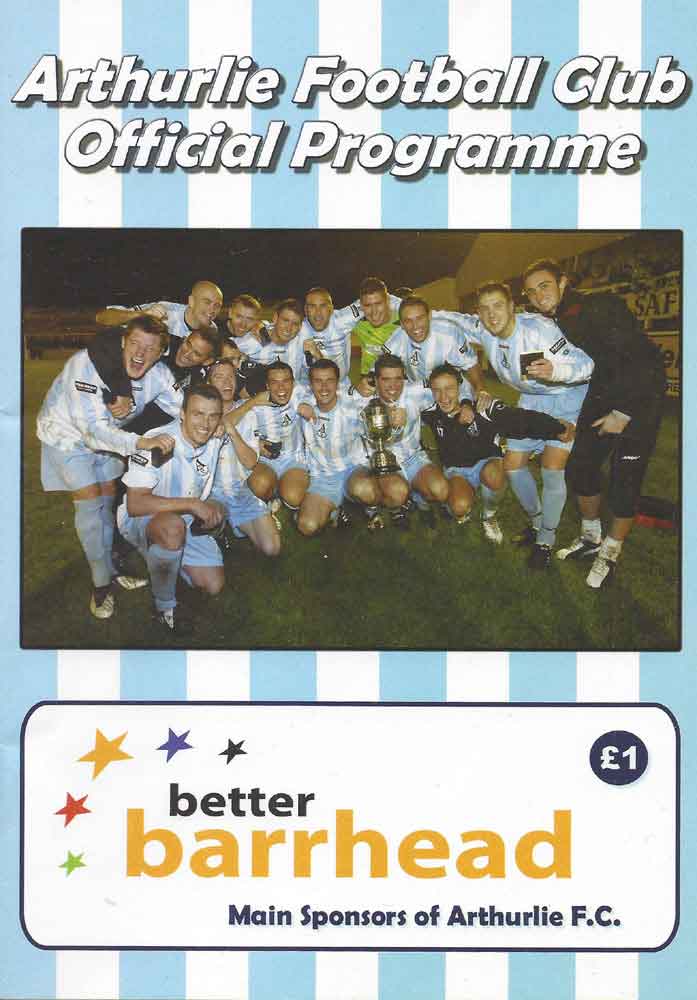 April 21st, 2010
Arthurlie 0 - 2 Clydebank
Central League Cup (2nd Round)
Timeline
If you had to think of a worse place to visit to get over a semi-final exit, then Dunterlie Park would be hard to beat. Clydebank's disappointing exit to Largs Thistle in the Scottish Cup meant that the hangover was to be against high flying Arthurlie. Sitting 2nd top of the Super Premier League with only one defeat in thirteen matches, few would have given the Bankies any chance before kick off. Even more so, as the Central League cup is one of the few opportunities left for Arthurlie to win some silverware.
Collectables (Stickers & Cards)
Sorry, there are no cards or stickers available for this player.
---
Magazine Articles
Sorry, there are no magazine articles available for this player.