Playing History
| Season | Division | | | G2G | | | Win % | Draw % | Loss % |
| --- | --- | --- | --- | --- | --- | --- | --- | --- | --- |
| 2020-21 | West of Scotland Football League Premier | - | - | - | - | - | - | - | - |
| 2019-20 | West Region Premiership | 10 (1) | 1 | 0.09 | 2 | 0 | 36.4% | 9.1% | 54.5% |
| Totals: | | 10 (1) | 1 | | | | | | |
Apps = First Team Appearances (Sub Appearances) | Gls = Goals
GtGR = Goals to Games Ratio | W/D/L - Games won, drawn or lost as percentage of games played in
Yel = Yellow Cards/Cautions | Red = Red Cards/Dismissals
List of Goals Scored (click to expand)
| | | | | | | |
| --- | --- | --- | --- | --- | --- | --- |
| Mar 4th, 2020 | 04/03/20 | League | West Region Premiership | vs. Pollok (H) | 1 - 4 | (41') |
List of Games Played (click to expand)
| | | | | | | |
| --- | --- | --- | --- | --- | --- | --- |
| Mar 11th, 2020 | 11/03/20 | League | West Region Premiership | vs. Auchinleck Talb (H) | 0 - 2 | |
| Mar 4th, 2020 | 04/03/20 | League | West Region Premiership | vs. Pollok (H) | 1 - 4 | |
| Feb 29th, 2020 | 29/02/20 | League | West Region Premiership | vs. Rossvale (A) | 2 - 1 | |
| Feb 15th, 2020 | 15/02/20 | League | West Region Premiership | vs. Benburb (H) | 2 - 0 | |
| Feb 1st, 2020 | 01/02/20 | League | West Region Premiership | vs. Beith Juniors (H) | 2 - 2 | |
| Jan 25th, 2020 | 25/01/20 | League | West Region Premiership | vs. Benburb (A) | 1 - 0 | |
| Jan 18th, 2020 | 18/01/20 | League | West Region Premiership | vs. Rutherglen Glen (A) | 1 - 2 | (sub) |
| Jan 11th, 2020 | 11/01/20 | West of Scotland Cup | 2nd Round | vs. Hurlford United (H) | 2 - 4 | |
| Dec 28th, 2019 | 28/12/19 | League | West Region Premiership | vs. Largs Thistle (A) | 3 - 2 | |
| Dec 21st, 2019 | 21/12/19 | League | West Region Premiership | vs. Kirk. Rob Roy (H) | 1 - 2 | |
| Dec 7th, 2019 | 07/12/19 | League | West Region Premiership | vs. Troon (H) | 1 - 2 | |
Biography
There is no bio for this player yet.


Debut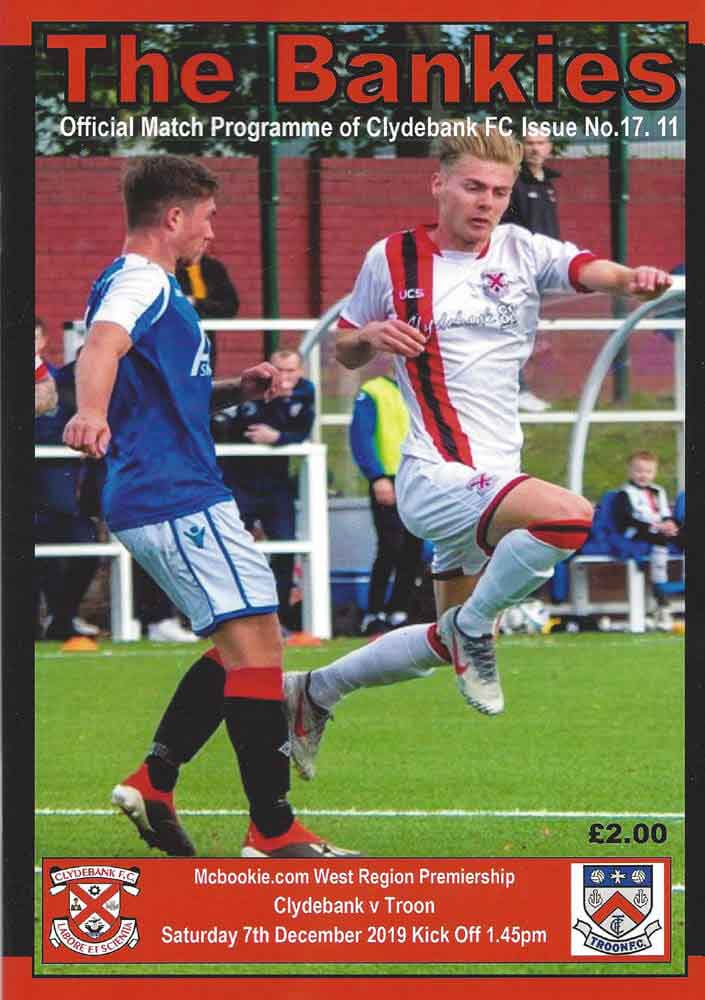 December 7th, 2019
Clydebank 1 - 2 Troon
League (West Region Premiership)
Timeline
Date of Birth

Craig was born on this date in .

Clydebank slumped to their fifth defeat in six matches at home to lowly Troon by two goals to one in a rotten day for football if ever there was one. The rain battered down incessantly but that is no excuse as the relegation threatened Ayrshire side deservedly completed the league double over a miserable Bankies outfit. To put this defeat into perspective, Troon had lost all eight of their away matches in the league up until today and this victory – their second over the Bankies – was only their fourth overall.

Clydebank can have no complaints as they were well beaten at home to Pollok by four goals to one. The Bankies were never at the races as Pollok outclassed the Bankies in every department on the field. They closed down the Clydebank players quicker, moved the ball faster and just all round looked a much better side.

Two quick fire first half goals gave Auchinleck Talbot a comfortable 2-0 victory over the Bankies at Holm Park in this league clash. The Ayrshire side are now closing in ominously on Kilwinning Rangers as they look to make it back to back league titles. Clydebank did Ok and definitely played a lot better than they did against Pollok last week. However, the Bankies are lacking the cut and thrust that Talbot displayed and never really looked like getting anything out the game once they fell behind.
Collectables (Stickers & Cards)
Sorry, there are no cards or stickers available for this player.
---
Magazine Articles
Sorry, there are no magazine articles available for this player.