Playing History
| Season | Division | | | G2G | | | Win % | Draw % | Loss % |
| --- | --- | --- | --- | --- | --- | --- | --- | --- | --- |
| 1974-75 | Division Two | 4 (4) | 2 | 0.25 | 0 | 0 | 37.5% | 12.5% | 50.0% |
| 1973-74 | Division Two | 31 (1) | 9 | 0.28 | 0 | 0 | 40.6% | 21.9% | 37.5% |
| 1972-73 | Division Two | 17 (1) | 6 | 0.33 | 0 | 0 | 33.3% | 11.1% | 55.6% |
| Totals: | | 52 (6) | 17 | | | | | | |
Apps = First Team Appearances (Sub Appearances) | Gls = Goals
GtGR = Goals to Games Ratio | W/D/L - Games won, drawn or lost as percentage of games played in
Yel = Yellow Cards/Cautions | Red = Red Cards/Dismissals
List of Goals Scored (click to expand)
| | | | | | | |
| --- | --- | --- | --- | --- | --- | --- |
| Sep 7th, 1974 | 07/09/74 | League | Division 2 | vs. Meadowbank Th (H) | 3 - 0 | (48') |
| Sep 7th, 1974 | 07/09/74 | League | Division 2 | vs. Meadowbank Th (H) | 3 - 0 | (75') |
| Apr 27th, 1974 | 27/04/74 | League | Division 2 | vs. Airdrie (H) | 2 - 1 | (29') |
| Mar 9th, 1974 | 09/03/74 | League | Division 2 | vs. Montrose (H) | 3 - 0 | (82') |
| Jan 12th, 1974 | 12/01/74 | Scottish Cup | 2nd Round Replay | vs. Inverness Clach (H) | 3 - 2 | (16') |
| Jan 12th, 1974 | 12/01/74 | Scottish Cup | 2nd Round Replay | vs. Inverness Clach (H) | 3 - 2 | (53') |
| Sep 29th, 1973 | 29/09/73 | League | Division 2 | vs. Stenhousemuir (A) | 2 - 1 | (44') |
| Sep 29th, 1973 | 29/09/73 | League | Division 2 | vs. Stenhousemuir (A) | 2 - 1 | (51') |
| Sep 15th, 1973 | 15/09/73 | League | Division 2 | vs. Forfar Ath (A) | 2 - 0 | (40') |
| Aug 25th, 1973 | 25/08/73 | League Cup | Group 9 | vs. Brechin City (A) | 2 - 2 | (72') |
| Aug 18th, 1973 | 18/08/73 | League Cup | Group 9 | vs. Stranraer (H) | 3 - 0 | (62') |
| Apr 7th, 1973 | 07/04/73 | League | Division 2 | vs. Stranraer (H) | 4 - 2 | (84') |
| Oct 14th, 1972 | 14/10/72 | League | Division 2 | vs. Montrose (A) | 3 - 1 | (88') |
| Oct 7th, 1972 | 07/10/72 | League | Division 2 | vs. Forfar Ath (H) | 4 - 1 | (8') |
| Oct 7th, 1972 | 07/10/72 | League | Division 2 | vs. Forfar Ath (H) | 4 - 1 | (41') |
| Sep 23rd, 1972 | 23/09/72 | League | Division 2 | vs. Hamilton Accies (A) | 4 - 1 | (76') |
| Aug 30th, 1972 | 30/08/72 | League Cup | Group 3 | vs. St Mirren (H) | 3 - 3 | (55') |
List of Games Played (click to expand)
| | | | | | | |
| --- | --- | --- | --- | --- | --- | --- |
| Sep 21st, 1974 | 21/09/74 | League | Division 2 | vs. East Fife (H) | 0 - 1 | (sub) |
| Sep 18th, 1974 | 18/09/74 | League | Division 2 | vs. Stenhousemuir (H) | 1 - 1 | (sub) |
| Sep 14th, 1974 | 14/09/74 | League | Division 2 | vs. Berwick Rangers (A) | 0 - 2 | |
| Sep 11th, 1974 | 11/09/74 | League | Division 2 | vs. Stenhousemuir (A) | 2 - 1 | |
| Sep 7th, 1974 | 07/09/74 | League | Division 2 | vs. Meadowbank Th (H) | 3 - 0 | |
| Aug 24th, 1974 | 24/08/74 | League Cup | Group 7 | vs. Stirling Albion (A) | 2 - 5 | (sub) |
| Aug 21st, 1974 | 21/08/74 | League Cup | Group 7 | vs. St Mirren (A) | 0 - 1 | |
| Aug 17th, 1974 | 17/08/74 | League Cup | Group 7 | vs. Stirling Albion (H) | 3 - 1 | (sub) |
| May 1st, 1974 | 01/05/74 | League | Division 2 | vs. Raith Rovers (A) | 2 - 2 | |
| Apr 29th, 1974 | 29/04/74 | League | Division 2 | vs. Alloa Athletic (A) | 1 - 0 | |
| Apr 27th, 1974 | 27/04/74 | League | Division 2 | vs. Airdrie (H) | 2 - 1 | |
| Mar 30th, 1974 | 30/03/74 | League | Division 2 | vs. Berwick Rangers (H) | 1 - 2 | |
| Mar 27th, 1974 | 27/03/74 | League | Division 2 | vs. St Mirren (A) | 0 - 2 | |
| Mar 23rd, 1974 | 23/03/74 | League | Division 2 | vs. Queen's Park (H) | 2 - 0 | |
| Mar 9th, 1974 | 09/03/74 | League | Division 2 | vs. Montrose (H) | 3 - 0 | |
| Mar 3rd, 1974 | 03/03/74 | League | Division 2 | vs. Hamilton Accies (A) | 0 - 3 | |
| Feb 9th, 1974 | 09/02/74 | League | Division 2 | vs. Brechin City (H) | 2 - 0 | |
| Jan 27th, 1974 | 27/01/74 | Scottish Cup | 3rd Round | vs. Celtic (A) | 1 - 6 | |
| Jan 19th, 1974 | 19/01/74 | League | Division 2 | vs. Stenhousemuir (H) | 1 - 1 | |
| Jan 12th, 1974 | 12/01/74 | Scottish Cup | 2nd Round Replay | vs. Inverness Clach (H) | 3 - 2 | |
| Dec 25th, 1973 | 25/12/73 | Scottish Cup | 1st Round Replay | vs. East Stirlingshire (H) | 1 - 0 | |
| Dec 24th, 1973 | 24/12/73 | Scottish Cup | 1st Round | vs. East Stirlingshire (A) | 0 - 0 | |
| Dec 22nd, 1973 | 22/12/73 | League | Division 2 | vs. Airdrie (A) | 1 - 4 | |
| Nov 24th, 1973 | 24/11/73 | League | Division 2 | vs. Berwick Rangers (A) | 0 - 0 | |
| Nov 17th, 1973 | 17/11/73 | League | Division 2 | vs. Queen's Park (A) | 1 - 2 | |
| Nov 10th, 1973 | 10/11/73 | League | Division 2 | vs. Alloa Athletic (H) | 1 - 2 | |
| Oct 27th, 1973 | 27/10/73 | League | Division 2 | vs. Hamilton Accies (H) | 1 - 1 | |
| Oct 20th, 1973 | 20/10/73 | League | Division 2 | vs. Albion Rovers (H) | 0 - 1 | |
| Oct 13th, 1973 | 13/10/73 | League | Division 2 | vs. Brechin City (A) | 1 - 0 | |
| Oct 6th, 1973 | 06/10/73 | League | Division 2 | vs. Stranraer (H) | 5 - 0 | |
| Sep 29th, 1973 | 29/09/73 | League | Division 2 | vs. Stenhousemuir (A) | 2 - 1 | |
| Sep 22nd, 1973 | 22/09/73 | League | Division 2 | vs. Raith Rovers (H) | 1 - 1 | |
| Sep 19th, 1973 | 19/09/73 | League | Division 2 | vs. Stirling Albion (H) | 2 - 0 | |
| Sep 15th, 1973 | 15/09/73 | League | Division 2 | vs. Forfar Ath (A) | 2 - 0 | |
| Sep 8th, 1973 | 08/09/73 | League | Division 2 | vs. East Stirlingshire (H) | 1 - 3 | |
| Sep 1st, 1973 | 01/09/73 | League | Division 2 | vs. Kilmarnock (A) | 2 - 3 | |
| Aug 25th, 1973 | 25/08/73 | League Cup | Group 9 | vs. Brechin City (A) | 2 - 2 | |
| Aug 22nd, 1973 | 22/08/73 | League Cup | Group 9 | vs. Forfar Ath (H) | 0 - 1 | |
| Aug 18th, 1973 | 18/08/73 | League Cup | Group 9 | vs. Stranraer (H) | 3 - 0 | |
| Aug 15th, 1973 | 15/08/73 | League Cup | Group 9 | vs. Albion Rovers (A) | 1 - 3 | (sub) |
| Apr 21st, 1973 | 21/04/73 | League | Division 2 | vs. Clyde (H) | 0 - 1 | (sub) |
| Apr 7th, 1973 | 07/04/73 | League | Division 2 | vs. Stranraer (H) | 4 - 2 | |
| Dec 23rd, 1972 | 23/12/72 | Scottish Cup | 1st Round Replay | vs. Brechin City (H) | 1 - 2 | |
| Oct 28th, 1972 | 28/10/72 | League | Division 2 | vs. Albion Rovers (A) | 1 - 4 | |
| Oct 21st, 1972 | 21/10/72 | League | Division 2 | vs. Queen of South (H) | 1 - 0 | |
| Oct 14th, 1972 | 14/10/72 | League | Division 2 | vs. Montrose (A) | 3 - 1 | |
| Oct 7th, 1972 | 07/10/72 | League | Division 2 | vs. Forfar Ath (H) | 4 - 1 | |
| Sep 30th, 1972 | 30/09/72 | League | Division 2 | vs. Cowdenbeath (A) | 0 - 2 | |
| Sep 27th, 1972 | 27/09/72 | League | Division 2 | vs. Brechin City (H) | 2 - 1 | |
| Sep 23rd, 1972 | 23/09/72 | League | Division 2 | vs. Hamilton Accies (A) | 4 - 1 | |
| Sep 20th, 1972 | 20/09/72 | League | Division 2 | vs. Stirling Albion (A) | 0 - 3 | |
| Sep 16th, 1972 | 16/09/72 | League | Division 2 | vs. Raith Rovers (H) | 1 - 1 | |
| Sep 13th, 1972 | 13/09/72 | League | Division 2 | vs. Stenhousemuir (H) | 1 - 2 | |
| Sep 9th, 1972 | 09/09/72 | League | Division 2 | vs. East Stirlingshire (A) | 2 - 4 | |
| Sep 2nd, 1972 | 02/09/72 | League | Division 2 | vs. Stirling Albion (H) | 0 - 3 | |
| Aug 30th, 1972 | 30/08/72 | League Cup | Group 3 | vs. St Mirren (H) | 3 - 3 | |
| Aug 26th, 1972 | 26/08/72 | League Cup | Group 3 | vs. Rangers (H) | 0 - 5 | |
| Aug 12th, 1972 | 12/08/72 | League Cup | Group 3 | vs. Rangers (A) | 0 - 2 | |
Biography
There is no bio for this player yet.


Debut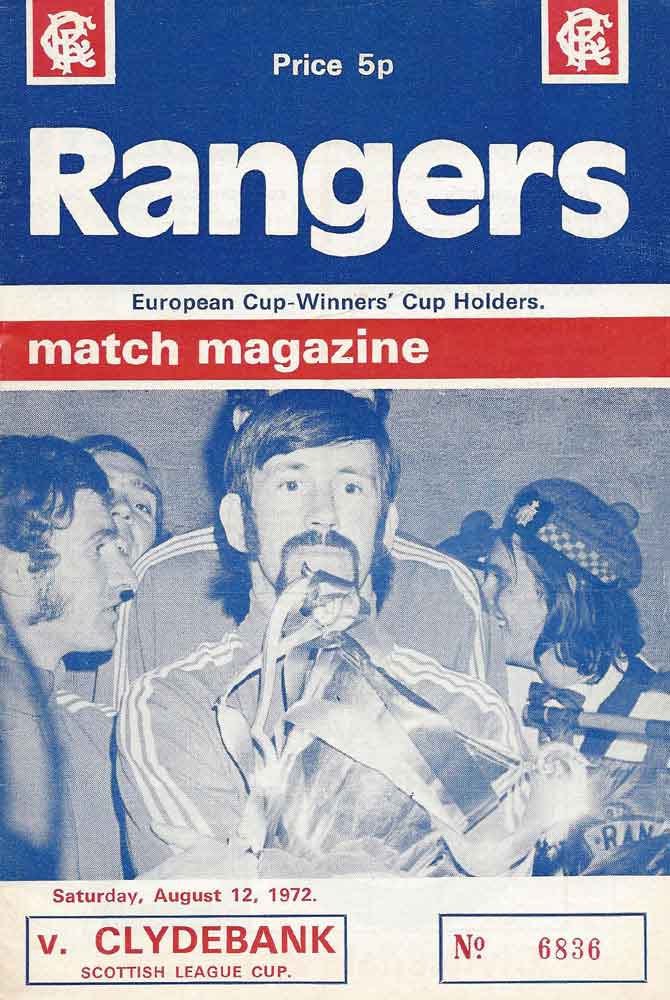 August 12th, 1972
Rangers 2 - 0 Clydebank
League Cup (Group 3)
Timeline
---
Date of Birth


Andy was born on this date in Glasgow.

---

Signed For Clydebank


Andy was signed on a free transfer from Falkirk

---

First Non-Competitive Appearance (Friendly)

Clydebank 1 - 0 Rochdale
Friendly

The Killer instinct of Jimmy Caskie won this pre-season challenge game at Kilbowie in the 20th minute. It acted as a shake-down performance for the new-look Bankies who fielded Andy Roxburgh, Gregor A

---

First Team Debut

Rangers 2 - 0 Clydebank
League Cup (Group 3)

There was a pang of pity in my heart on Saturday afternoon about 2.50 pm. Down below my seat in the Press box the Rangers players were being presented with their European Cup Winners Cup medals and th

---

First Goal

Clydebank 3 - 3 St Mirren
League Cup (Group 3)

Clydebank and St Mirren, out of qualifying contention, provided an all-action six-goal thriller at Kilbowie Park. A draw was just right after a tremendous tussle.Although Stevenson was in acti

---

League Debut

Clydebank 0 - 3 Stirling Albion
League (Division 2)

"They are all going home." sang the Stirling Albion fans when the Clydebank supporters started filing out of Kilbowie immediately Albion's third goal hit the net. And who could blame the home fans?

---

First League Goal

Hamilton Accies 1 - 4 Clydebank
League (Division 2)

The Bankies earned themselves a crucial morale and points boost at Douglas Park on Saturday with a cool, polished display despite intense and continual pressure from the Accies.During the firs

---
Player Gallery
Sorry, there are no cards or stickers available for this player.
---
Magazine Articles
Sorry, there are no magazine articles available for this player.