Playing History
| Season | Division | | | G2G | | | Win % | Draw % | Loss % |
| --- | --- | --- | --- | --- | --- | --- | --- | --- | --- |
| 2022-23 | West of Scotland Football League Premier | - | - | - | - | - | - | - | - |
| 2021-22 | West of Scotland Football League Premier | 32 | 0 | - | 3 | 0 | 43.8% | 28.1% | 28.1% |
| 2020-21 | West of Scotland Football League Premier | 8 | 0 | - | 1 | 0 | 87.5% | 12.5% | 0.0% |
| Totals: | | 40 (0) | 0 | | | | | | |
Apps = First Team Appearances (Sub Appearances) | Gls = Goals
Cln = Clean Sheets | CtGR = Clean Sheets to Games Ratio | W/D/L - Games won, drawn or lost as percentage of games played in
Yel = Yellow Cards/Cautions | Red = Red Cards/Dismissals
List of Goals Scored
None
List of Games Played (click to expand)
| | | | | | | |
| --- | --- | --- | --- | --- | --- | --- |
| May 16th, 2022 | 16/05/22 | West of Scotland Football League Cup | Quarter Final | vs. Pollok (A) | 0 - 1 | |
| May 14th, 2022 | 14/05/22 | League | WoSFL Premier | vs. Largs Thistle (A) | 0 - 3 | |
| May 7th, 2022 | 07/05/22 | West of Scotland Football League Cup | 3rd Round | vs. Kello Rovers (A) | 3 - 0 | |
| Apr 30th, 2022 | 30/04/22 | League | WoSFL Premier | vs. Irvine Meadow (A) | 2 - 0 | |
| Apr 23rd, 2022 | 23/04/22 | League | WoSFL Premier | vs. Glenafton Ath (H) | 0 - 2 | |
| Apr 20th, 2022 | 20/04/22 | League | WoSFL Premier | vs. Pollok (A) | 2 - 1 | |
| Apr 9th, 2022 | 09/04/22 | League | WoSFL Premier | vs. Darvel (A) | 3 - 0 | |
| Apr 2nd, 2022 | 02/04/22 | League | WoSFL Premier | vs. Rutherglen Glen (H) | 3 - 3 | |
| Mar 26th, 2022 | 26/03/22 | League | WoSFL Premier | vs. Beith Juniors (H) | 1 - 1 | |
| Feb 5th, 2022 | 05/02/22 | South Challenge Cup | 4th Round | vs. Pollok (H) | 1 - 2 | |
| Jan 22nd, 2022 | 22/01/22 | Scottish Cup | 4th Round | vs. Annan Ath (H) | 3 - 4 | |
| Jan 15th, 2022 | 15/01/22 | League | WoSFL Premier | vs. Kirk Rob Roy (H) | 2 - 3 | |
| Jan 8th, 2022 | 08/01/22 | League | WoSFL Premier | vs. Benburb (A) | 0 - 4 | |
| Dec 11th, 2021 | 11/12/21 | West of Scotland Football League Cup | 1st Round | vs. Carluke Rovers (A) | 4 - 0 | |
| Dec 8th, 2021 | 08/12/21 | League | WoSFL Premier | vs. Rossvale (A) | 0 - 0 | |
| Dec 3rd, 2021 | 03/12/21 | League | WoSFL Premier | vs. Troon (H) | 3 - 1 | |
| Nov 27th, 2021 | 27/11/21 | Scottish Cup | 3rd Round | vs. Clyde (H) | 2 - 0 | |
| Nov 13th, 2021 | 13/11/21 | League | WoSFL Premier | vs. Auchinleck Talb (H) | 0 - 2 | |
| Nov 6th, 2021 | 06/11/21 | League | WoSFL Premier | vs. Cumnock (A) | 2 - 0 | |
| Oct 30th, 2021 | 30/10/21 | Scottish Cup | 2nd Round Replay | vs. Elgin City (A) | 2 - 1 | |
| Oct 25th, 2021 | 25/10/21 | Scottish Cup | 2nd Round | vs. Elgin City (H) | 1 - 1 | |
| Oct 13th, 2021 | 13/10/21 | League | WoSFL Premier | vs. Benburb (H) | 1 - 0 | |
| Oct 9th, 2021 | 09/10/21 | League | WoSFL Premier | vs. Beith Juniors (A) | 0 - 0 | |
| Oct 2nd, 2021 | 02/10/21 | League | WoSFL Premier | vs. Kilwinning Rgrs (H) | 0 - 1 | |
| Aug 21st, 2021 | 21/08/21 | League | WoSFL Premier | vs. Darvel (H) | 2 - 2 | |
| Aug 14th, 2021 | 14/08/21 | League | WoSFL Premier | vs. Irvine Meadow (H) | 2 - 2 | |
| Aug 4th, 2021 | 04/08/21 | League | WoSFL Premier | vs. Glenafton Ath (A) | 3 - 1 | |
| Jul 31st, 2021 | 31/07/21 | League | WoSFL Premier | vs. Troon (A) | 1 - 0 | |
| Jul 28th, 2021 | 28/07/21 | League | WoSFL Premier | vs. Cumnock (H) | 2 - 1 | |
| Jul 24th, 2021 | 24/07/21 | League | WoSFL Premier | vs. Kirk Rob Roy (A) | 1 - 0 | |
| Jul 21st, 2021 | 21/07/21 | League | WoSFL Premier | vs. Cumbernauld Un (H) | 2 - 2 | |
| Jul 17th, 2021 | 17/07/21 | League | WoSFL Premier | vs. Auchinleck Talb (A) | 2 - 2 | |
| Dec 29th, 2020 | 29/12/20 | League | WoSFL Premier | vs. Cumbernauld Un (H) | 4 - 1 | |
| Dec 19th, 2020 | 19/12/20 | League | WoSFL Premier | vs. Rossvale (H) | 1 - 1 | |
| Dec 5th, 2020 | 05/12/20 | League | WoSFL Premier | vs. Rutherglen Glen (H) | 4 - 0 | |
| Nov 28th, 2020 | 28/11/20 | South Challenge Cup | 1st Round | vs. Beith Juniors (A) | 3 - 0 | |
| Nov 14th, 2020 | 14/11/20 | League | WoSFL Premier | vs. Kirk Rob Roy (A) | 4 - 0 | |
| Nov 7th, 2020 | 07/11/20 | League | WoSFL Premier | vs. Bonnyton Thistle (A) | 2 - 1 | |
| Oct 31st, 2020 | 31/10/20 | League | WoSFL Premier | vs. Hurlford United (H) | 4 - 0 | |
| Oct 24th, 2020 | 24/10/20 | League | WoSFL Premier | vs. Largs Thistle (A) | 1 - 0 | |
Biography
There is no bio for this player yet.


Debut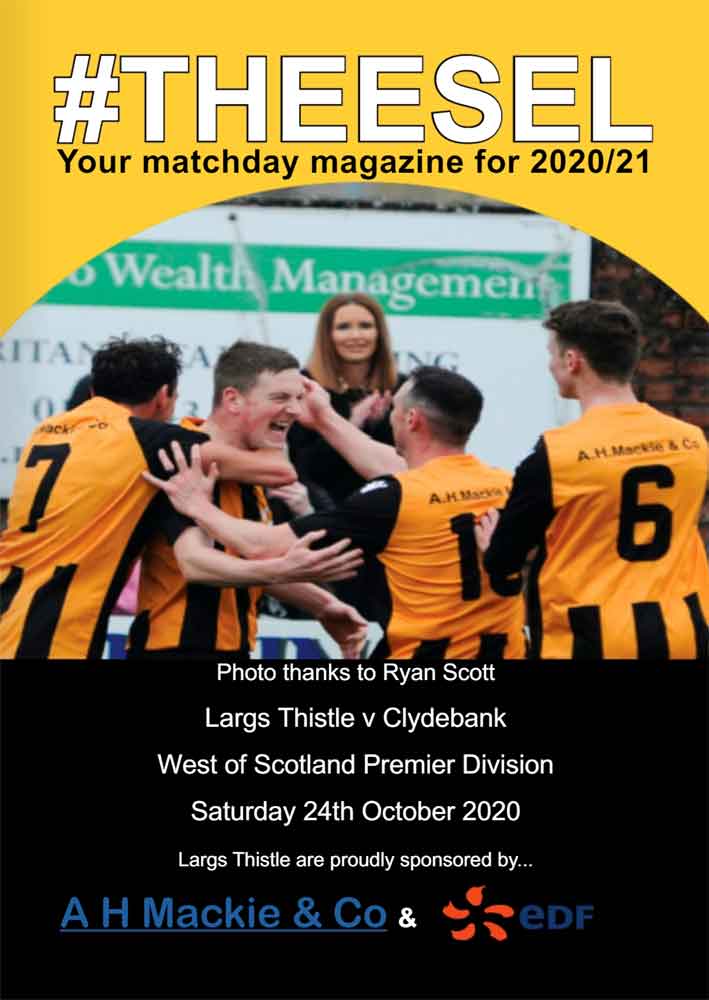 October 24th, 2020
Largs Thistle 0 - 1 Clydebank FC
League (WoSFL Premier)
Timeline
---
Date of Birth


Jamie was born on this date

---

Last Appearance

Pollok 1 - 0 Clydebank FC
West of Scotland Football League Cup (Quarter Final)

The curtain came down on Clydebank's season after they were knocked out of the West of Scotland Cup by Pollok in the first ever floodlit match at Newlandsfield Park. It took a Stuart McCann header ten

---
Player Gallery
Sorry, there are no cards or stickers available for this player.
---
Magazine Articles
Sorry, there are no magazine articles available for this player.