Playing History
| Season | Division | | | G2G | | | Win % | Draw % | Loss % |
| --- | --- | --- | --- | --- | --- | --- | --- | --- | --- |
| 1973-74 | Division Two | 32 (1) | 0 | - | 0 | 0 | 36.4% | 18.2% | 45.5% |
| 1972-73 | Division Two | 37 (4) | 1 | 0.02 | 0 | 0 | 22.0% | 19.5% | 58.5% |
| 1971-72 | Division Two | 48 | 0 | - | 0 | 0 | 39.6% | 29.2% | 31.3% |
| 1970-71 | Division Two | 40 | 1 | 0.03 | 0 | 0 | 47.5% | 17.5% | 35.0% |
| 1969-70 | Division Two | 42 (1) | 0 | - | 1 | 0 | 32.6% | 25.6% | 41.9% |
| 1968-69 | Division Two | 36 | 0 | - | 0 | 0 | 16.7% | 30.6% | 52.8% |
| 1967-68 | Division Two | 45 | 1 | 0.02 | 0 | 0 | 37.8% | 24.4% | 37.8% |
| 1966-67 | Division Two | 28 | 3 | 0.11 | 0 | 0 | 28.6% | 28.6% | 42.9% |
| Totals: | | 308 (6) | 6 | | | | | | |
Apps = First Team Appearances (Sub Appearances) | Gls = Goals
Cln = Clean Sheets | CtGR = Clean Sheets to Games Ratio | W/D/L - Games won, drawn or lost as percentage of games played in
Yel = Yellow Cards/Cautions | Red = Red Cards/Dismissals
List of Goals Scored (click to expand)
List of Games Played
Sorry, there are too many games to display for this player.
Biography
Signed for Clydebank in October 1966, having previously been with St. Mirren. He was a right full back who ended up playing eight seasons with The Bankies, occupying both full back positions. He belongs to a small select group of players to have played over 300 games for Clydebank.

There was nothing flashy about Davie Mitchell, he did not have any particular skill that stood out, he was an old fashioned full back that gave you every ounce of energy he had, and that is all you can ask as a supporter from any player in your team. He missed very few games in his time at Clydebank, and could always be easily picked out on a football pitch with his face always red with the effort of chasing up and down the touchline.

Davie was not particularly tall but he did possess a great engine and had unlimited stamina. It has to be remembered that he joined a club at this time who were struggling defensively, who then adopted a policy of blooding large groups of boys at the back, boys who would struggle to get to grips with football at this level. Davie would be seen as an old head although he was only 22 years old when he came to Clydebank.

Davie Mitchell only scored six (6) goals in his 300 plus games for Clydebank, they were all single goals, and we never lost a game when Davie scored. His Clydebank career came to a close at the end of the 1973-74 season when he was given a free transfer. He joined Kilwinning Rangers.


Debut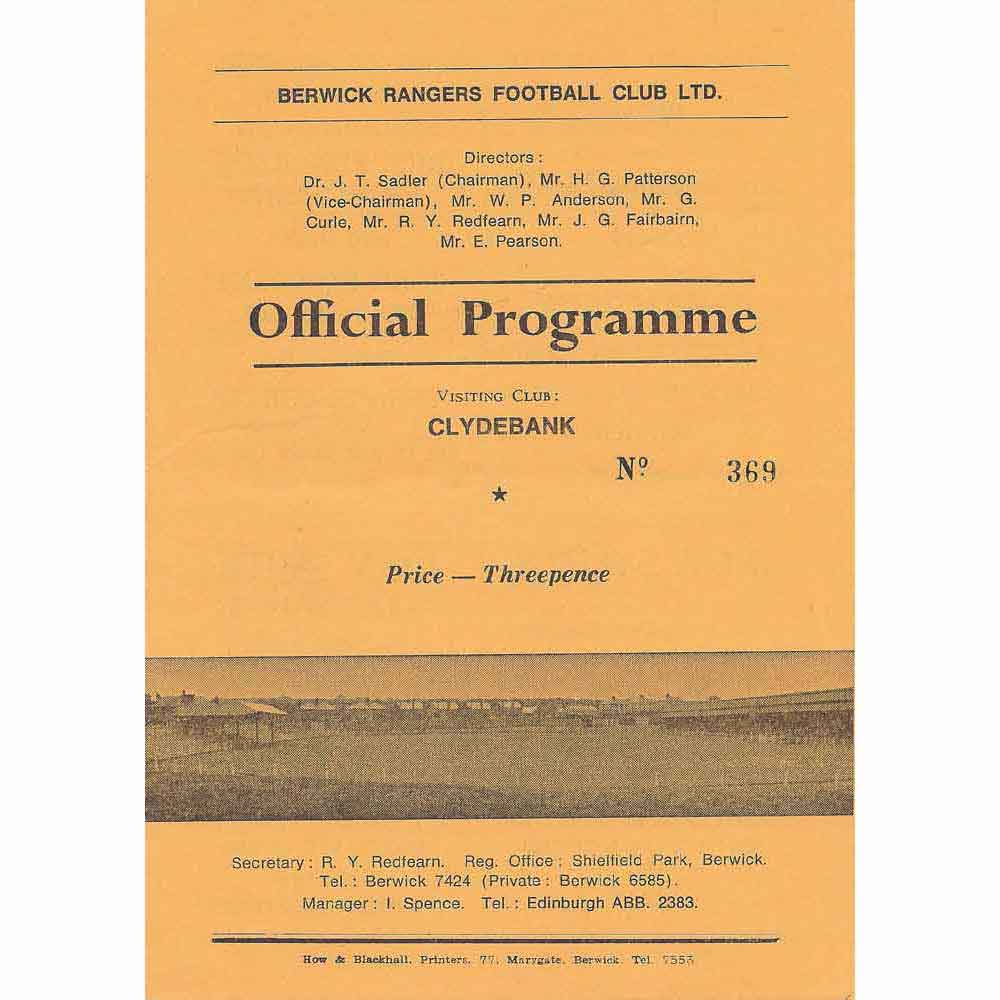 October 15th, 1966
Berwick Rangers 1 - 1 Clydebank FC
League (Division 2)
Timeline
---
Date of Birth


Davie was born on this date

---

First Team Debut

Berwick Rangers 1 - 1 Clydebank FC
League (Division 2)

Disillusionment for Berwick and near triumph for Clydebank. Britain's only team, up to Saturday, without a point. They finished so strongly they might well have collected a brace. Bankies equalising g

---

First Goal

Clydebank FC 3 - 3 Queen of South
League (Division 2)

Opinion had it that Queens would easily beat the Bankies but it was very nearly the other way round. Bankies started off confidently and managed to get two good goals and should have kept that lead bu

---

50th Appearance

Forfar Ath 2 - 2 Clydebank FC
League (Division 2)

Forfar had Derek Sim, the former Montrose and Brechin player now with Coupar Angus Juniors on trial. Bankies new boy was Joe Gallacher who can play at full back or centre-half. Joe is 18 years old and

---

50th League Appearance

Arbroath 4 - 0 Clydebank FC
League (Division 2)

Arbroath won convincingly against a lack-lustre Clydebank side which had no forward punch. After a slow start, the home side came onto a strong game and never looked in danger.Four up, Arbroat

---

100th Appearance

Motherwell 2 - 1 Clydebank FC
League (Division 2)

Motherwell, so often praised for skilful football this season, were given a lesson in the finer arts by a young Clydebank side that was unlucky not to share the points.Clydebank's main asset w

---

100th League Appearance

Clydebank FC 4 - 1 East Fife
League (Division 2)

The Terracing at Kilbowie was not exactly packed with over-enthusiastic fans, to see a match which was full of exciting football ... honestly ... and one or two amusing incidents. To top it all Bankie

---

200th Appearance

Clydebank FC 0 - 5 Celtic
League Cup (Quarter Final 1st Leg)

Clydebank's soccer babes were baptised on Wednesday night by that scoring machine in the green and white hoops from the other side of the toon. The machine took the babes by storm and gave them an obj

---

Last Goal

Clydebank FC 3 - 3 St Mirren
League Cup (Group 3)

Clydebank and St Mirren, out of qualifying contention, provided an all-action six-goal thriller at Kilbowie Park. A draw was just right after a tremendous tussle.Although Stevenson was in acti

---

200th League Appearance

Montrose 1 - 3 Clydebank FC
League (Division 2)

Carelessness cost Montrose the points. They got off to a great start when Guthrie shot them into the lead after only 20seconds. Bankies took a long time to settle but with their first corner in 26 min

---
Player Gallery
Sorry, there are no cards or stickers available for this player.
---
Magazine Articles
Sorry, there are no magazine articles available for this player.