Playing History
| Season | Division | | | G2G | | | Win % | Draw % | Loss % |
| --- | --- | --- | --- | --- | --- | --- | --- | --- | --- |
| 1973-74 | Division Two | 32 (1) | 0 | - | 0 | 0 | 36.4% | 18.2% | 45.5% |
| 1972-73 | Division Two | 36 (4) | 1 | 0.03 | 0 | 0 | 22.5% | 20.0% | 57.5% |
| 1971-72 | Division Two | 48 | 0 | - | 0 | 0 | 39.6% | 29.2% | 31.3% |
| 1970-71 | Division Two | 39 | 1 | 0.03 | 0 | 0 | 48.7% | 17.9% | 33.3% |
| 1969-70 | Division Two | 42 (1) | 0 | - | 0 | 0 | 32.6% | 25.6% | 41.9% |
| 1968-69 | Division Two | 36 | 0 | - | 0 | 0 | 16.7% | 30.6% | 52.8% |
| 1967-68 | Division Two | 45 | 1 | 0.02 | 0 | 0 | 37.8% | 24.4% | 37.8% |
| 1966-67 | Division Two | 28 | 3 | 0.11 | 0 | 0 | 28.6% | 28.6% | 42.9% |
| Totals: | | 306 (6) | 6 | | | | | | |
Apps = First Team Appearances (Sub Appearances) | Gls = Goals
Cln = Clean Sheets | CtGR = Clean Sheets to Games Ratio | W/D/L - Games won, drawn or lost as percentage of games played in
Yel = Yellow Cards/Cautions | Red = Red Cards/Dismissals
List of Goals Scored (click to expand)
List of Games Played
Sorry, there are too many games to display for this player.
Biography
Signed for Clydebank in October 1966, having previously been with St. Mirren. He was a right full back who ended up playing eight seasons with The Bankies, occupying both full back positions. He belongs to a small select group of players to have played over 300 games for Clydebank.

There was nothing flashy about Davie Mitchell, he did not have any particular skill that stood out, he was an old fashioned full back that gave you every ounce of energy he had, and that is all you can ask as a supporter from any player in your team. He missed very few games in his time at Clydebank, and could always be easily picked out on a football pitch with his face always red with the effort of chasing up and down the touchline.

Davie was not particularly tall but he did possess a great engine and had unlimited stamina. It has to be remembered that he joined a club at this time who were struggling defensively, who then adopted a policy of blooding large groups of boys at the back, boys who would struggle to get to grips with football at this level. Davie would be seen as an old head although he was only 22 years old when he came to Clydebank.

Davie Mitchell only scored six (6) goals in his 300 plus games for Clydebank, they were all single goals, and we never lost a game when Davie scored. His Clydebank career came to a close at the end of the 1973-74 season when he was given a free transfer. He joined Kilwinning Rangers.


Debut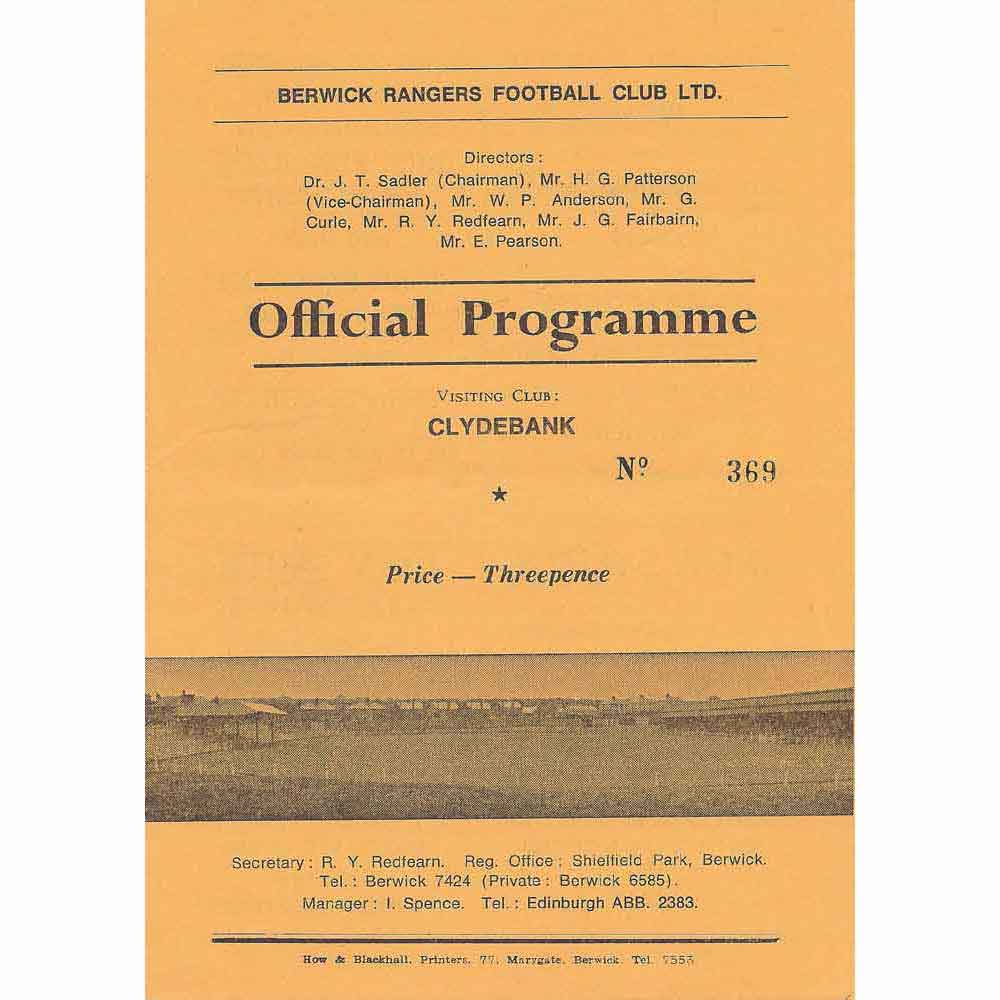 October 15th, 1966
Berwick Rangers 1 - 1 Clydebank
League (Division 2)
Player Gallery
Sorry, there are no cards or stickers available for this player.
---
Magazine Articles
Sorry, there are no magazine articles available for this player.